Forum: Old versions


Use this forum if you are still using an old version like VirtualDJ 7.
---


NOTE: VirtualDJ 7 is not maintained anymore.
Tema: VDJ Pro 7 - 4 Deck Config :) - Page: 1

Hello ppls,

My Set Up:

PC Windows 7 - VDJ Pro 7
CDJ 400 (Deck A)
CDJ 400 (Deck B)
Hercules MK2 (Deck C & D)
External Mixer DDM 4000

quick question,

am i gonna need an external sound card such as audio 8 now to get the 4 deck going? or am i going to be able to set it up with what i got?
if so please recommend a cheap good quality sound card... if it exists.

thanks






---
Mensajes Sun 17 Oct 10 @ 6:19 pm

You should be able to set it up with what you have. I have a similar setup, and was able to get 4 decks working with a few tweaks. You COULD use the sound card on your MK2...or you could use either a NI Audio4DJ or Audio8DJ.
---
Mensajes Mon 18 Oct 10 @ 8:32 am

im still lost, any guides where i can get the 4 decks... i am only getting audio from deck 1 & 2.

when i try a different combination VDJ shuts down :(




---
Mensajes Tue 19 Oct 10 @ 11:48 am

when you reach here



just add deck 3 and deck 4 too, but make deck 3 output 1&2 and deck 4 output 3&4

adding again the Pioneer CDJ ASIO (ASIO)

---
Mensajes Tue 19 Oct 10 @ 1:18 pm

My setup:
Windows 32bit OS
Hercules RMX timecode ASIO

Would like to set up 4 decks adding the Numark DMC2 controller as virtual decks 3 & 4 (which I now have working as such)
I also have the Numark dm950 USB mixer with built-in 2 channel soundcard to use as output for decks 3 & 4.

this is my working configuration now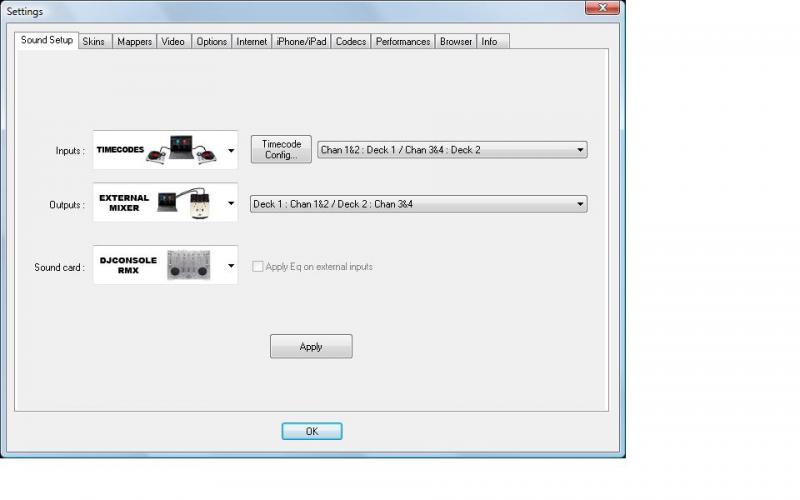 but when I attempt this new configuration: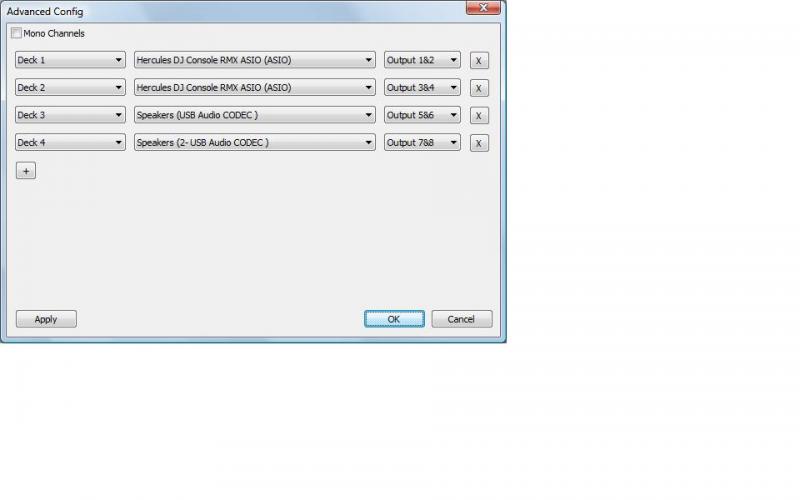 I get this message: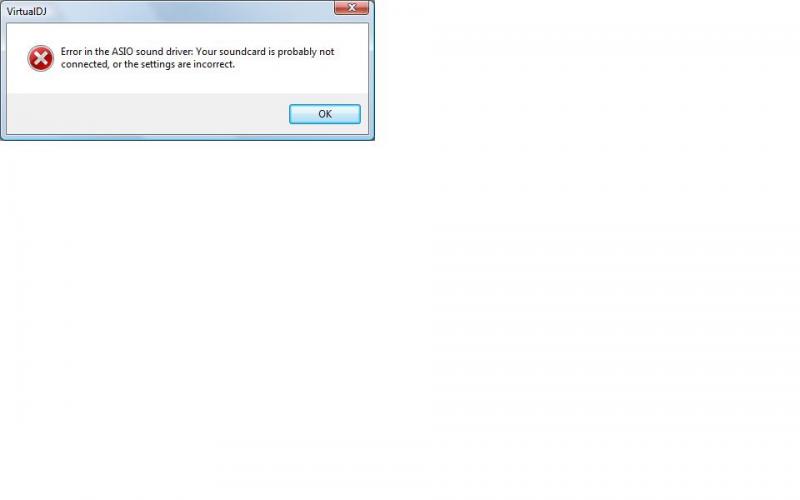 So it doesn't seem to be as simple as adding decks to ADVANCED configuration.

What am I missing?
---
Mensajes Tue 19 Oct 10 @ 3:13 pm

Im not sure, because I do not have this controller, but I think you've added as input the speakers, try for all decks to add Hercules DJ Console RMX Asio (ASIO).
and for deck 3 output 1&2 (again)
and for deck 4 output 3&4 (again)
---
Mensajes Tue 19 Oct 10 @ 3:47 pm

Thanks for the reply guys...
I tried the settings as below
Deck 1 . Cdj 400 driver . Output 1&2
Deck 2 . Cdj400 driver . Output 3&4
Deck 3 . Cdj400 driver . Output 1&2
Deck 4 . Cdj400 driver . Output 3&4

And it works... however of course is using the cdj drivers and so it also borrows the same channel in my external mixer... I need to route every deck and assign it to a channel in my mixer ddm 4000 so I connected my old mk2 and assigned it to control deck 3 and 4... succesfully. However I get no sound.... here is what I am trying...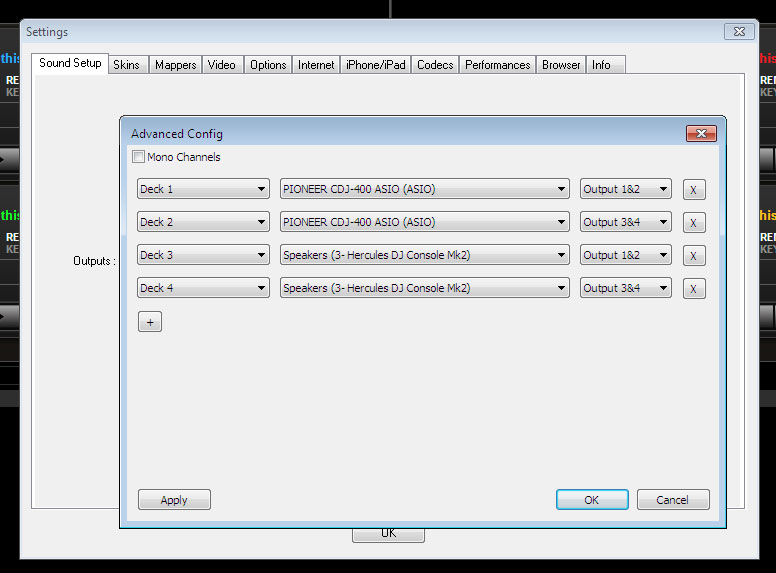 then VDJ CRASHES... and i have to restart my PC.

any ideas? am i doing something terribly wrong?
---
Mensajes Tue 19 Oct 10 @ 9:36 pm

Change te output of deck 3 to ch5&6 and the output of deck 4 to ch 7&8.
If in your mixer the decks come on a different channel just play a bit with the outputs
---
Mensajes Wed 20 Oct 10 @ 12:52 am

cool, i am trying that tonight and let you guys know!
---
Mensajes Thu 21 Oct 10 @ 11:36 am

I tried a similar setup with my Audio4DJ and my MK2, and when I tried using 5&6 and 7&8, I got crashes. I was, however, able to route both decks 3&4 to Hercules MK2 ASIO outputs 1&2. For some reason, I was never able to get anything out of outputs 3&4.
---
Mensajes Thu 21 Oct 10 @ 3:20 pm

i tried changing them to 5&6 and 7&8 and CRASHED :((

anyone with a similar set up that can help?
---
Mensajes Thu 21 Oct 10 @ 7:05 pm

Are you sure that you have selected the ASIO drivers?.

Give us a screenshot with the Advanced Sound config, with the SoundCard option Drop Down Menu ON.
---
Mensajes Thu 21 Oct 10 @ 7:30 pm

I\'m using 2xcdj-400 and mk2 for 4 decks setup. Here\'s how I got it set up. It works, although sometimes there could be some crackling, clicking on apply will take the crackling away.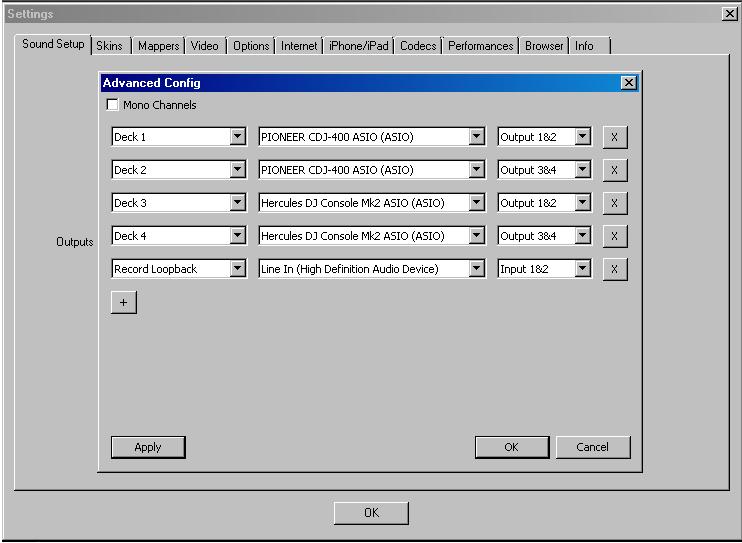 ---
Mensajes Sat 23 Oct 10 @ 8:20 am

hey thanks for the reply... i see that you did something different than me.

i will try that tonight and let you know.

thanks again
---
Mensajes Mon 25 Oct 10 @ 9:13 am

sup guys...

so i tried the settings just as you told me and the good thing is that the software is not crashing, but still not working... here are the screen shots...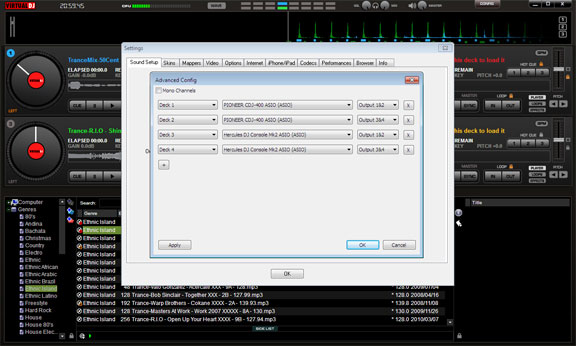 when i click ok i get the following error...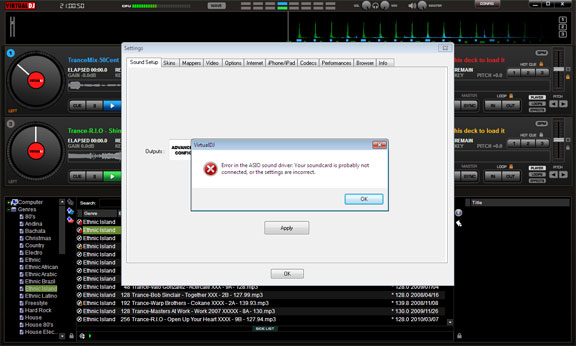 Error in the asio sound driver your sound card its probably not connected or the settings are incorrect... :((

any ideas.

thanks my ppls
---
Mensajes Tue 26 Oct 10 @ 8:05 pm

Hei!

Take into account that I am using a 4 channel mixer, that's why I set it up like that...

Try setting both cards' asio buffer size to the same number, from their own settings utility. Start with a bigger number to avoid skipping.

I was talking to a vdj tester, and he did not recommended me this configuration, as using two different asio drivers from two different brands is too heavy for the software.

At this point, I'm having problems with pioneer asio drivers (while using the 4 channels setup), so I gave up, and right now I'm back spinning with 2 decks.

---
Mensajes Wed 27 Oct 10 @ 6:29 am

i guess the solution will have to be an audio interface such as audio 8 for now.

thanks.
---
Mensajes Wed 27 Oct 10 @ 12:36 pm

Download Asio4all :) and select Asio4all for all cdjs :)
---
Mensajes Wed 27 Oct 10 @ 5:40 pm

@dj cubalibre.

you cant make the sound from two cdjs to go to 4 channels in the mixer :)
---
Mensajes Wed 27 Oct 10 @ 5:41 pm