Forum: VirtualDJ 8.0 Technical Support
Tema: External Camera in Virtual DJ doesn't work - Page: 1
Esta parte del tópico es antigua y puede contener información incorrecta para la nueva versión.
With Virtual DJ 7, we have always used a Dazzle DVC 100 or similar RCA to usb device, to get a live feed of our camera that is RCA video input. The dazzle takes the RCA video feed line from the camera, then we plug the dazzle into a usb and in effects, right click this unit to activate it, and control it over the internal camera. We cannot get this feed to work in Virtual DJ 8. We open the GUI and "spin" up the control to get the live feed camera on the dazzle to come in, but it goes from the internal camera to dark nothing. It even freezes VDJ sometimes on a few computers we have, so I'm worried. We also have essential media installed and have gotten the camera to work in that, so its not the camera. suggestions?/
---
Mensajes Fri 06 Mar 15 @ 3:50 pm
Might be a codec thing, as 8 uses its own internal codecs now. In other words - if the particular codec isn't built in, it won't work.
---
Mensajes Fri 06 Mar 15 @ 4:05 pm
Camera codecs are pretty generic so it may not be that.

Note that essential media was not finished for VDJ8 and can cause problems. TellyMedia continued on the development from EM and is current for VDJ8. TM is available in the download section for VDJ 7 and 8. Same download for either. TM's camera support is different than EM and would like to be sure your camera works with it. Thanks.
---
Mensajes Sat 07 Mar 15 @ 5:17 am
Same problem... I'm also trying to get my Dazzle to work with VDJ8 and searched here for an answer. Has anyone figured it out? I can only get the webcam on my laptop to work...
---
Mensajes Wed 22 Apr 15 @ 3:39 pm
I've tried both codecs. Same thing happens when I switch to the Dazzle input. Crash.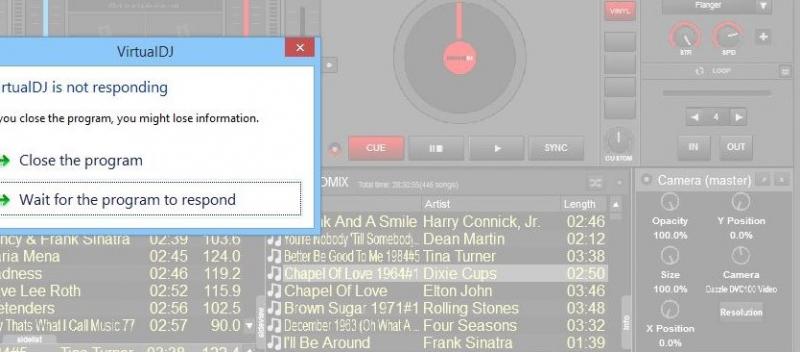 ---
Mensajes Wed 22 Apr 15 @ 4:24 pm
My Dazzle is now working - using TM, change setting to Dazzle input, be sure to turn off chroma, and set video resolution to 640x480 and check aspect.
---
Mensajes Wed 22 Apr 15 @ 4:43 pm
I am running Telemedia in VDJ 8 and want to play random videos when audio only files are played. I have set the VideoAudioOnlyVisualization to TellymediaV and it keeps defaulting to the laptop built in Camera instead of the Bank1 to 4 videos that I want it to play when an audio file comes up. I have tried every button and nothing works. Also I have a better HD vid cam hooked up via USB which shows in the camera section but won't show the feed. I have to turn off VideoAudioOnlyVisualization and use the Camera feed manually in he video section to get VDJ 8 to show my external Logitech camera feed. Is Tellymedia broke?
---
Mensajes Thu 23 Apr 15 @ 2:06 am
Each of Media, Carousel, and Camera have a Stop button to turn them off. The user interface for visualizations are weird since they don't associate with an external skin slot and try to share a deck slot. Also, if you have any effects with duplicate names you don't actually know which one will be run. In addition, visualizations have changed in VDJ8 3 or 4 or more times with the release of VDJ8 and I don't know where they are at with it now.
---
Mensajes Thu 23 Apr 15 @ 3:07 am
I am having the same problem with the camera app. I tested my camera and dazzle on virtual 7 and it works but in virtual 8 I either get a green screen or the software crashes.
Has anyone found a fix or work around ?
---
Mensajes Thu 07 May 15 @ 5:38 am
Same problem, I went to my control panel > device manager > Imaging devices > disable web cam

Plugged in my new USB web camera, then once in VDJ8 hit on camera in effects but nothing. Is there a fix as I'd like to point the camera onto the dancefloor rather than it pointing at me, call me old fashioned but watching women dancing on a screen is far more entertaining than a DJ looking back at his laptop selecting his next tune.

Can anyone help with a fix please ?

---
Mensajes Sun 29 Nov 15 @ 8:46 pm
Colin, you don't have to disable Web Cam (maybe that's causing your problem). Just plug in your USB camera and select that to use in VDJ plugin.

I use Logitech c920 camera. Did not have to disable web camera. Just select it in the plugin.
---
Mensajes Sun 29 Nov 15 @ 11:44 pm
Hi, Is the plugin already a part of VDJ 8 or I have to download it? Just got myself a Logitech c920.

Thanks.....
---
Mensajes Tue 08 Dec 15 @ 3:00 am
try it without installing the driver (using Windows default one). I had to install the driver on mine.

VDJ has camera plugin by default. no need to download it.
---
Mensajes Tue 08 Dec 15 @ 3:09 am
I installed the driver and it is being recognized by the computer but when I activate camera on VDJ it still defaults to the computer webcam.
Went to device manager and disabled the usb 2.0 webcam leaving the Logitech c920 enabled and it's working now.
Thank you for your assistance.....




---
Mensajes Tue 08 Dec 15 @ 4:19 am
you can disable it like you did but don't have to.

Just select which camera to use in from the plugin.
---
Mensajes Tue 08 Dec 15 @ 1:01 pm
I was trying to locate the plugin. Where will I access it?

---
Mensajes Tue 08 Dec 15 @ 1:58 pm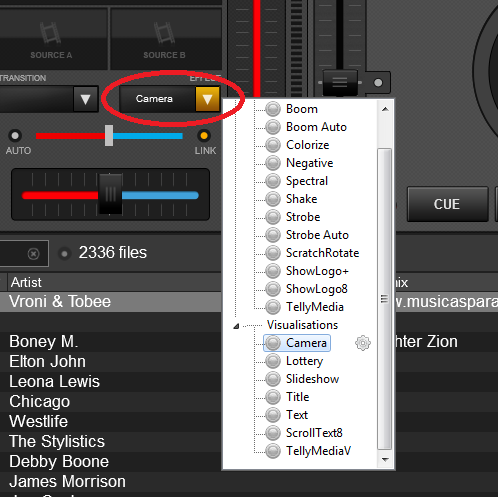 ---
Mensajes Tue 08 Dec 15 @ 2:41 pm
Oh That one! Yes I've been using that.

Thanks....
---
Mensajes Tue 08 Dec 15 @ 3:43 pm
Any progress on this guys?....Ive plugged in a Logitech c615 camera and only getting a blank screen.....its saying that the camera is there. Thanks
---
Mensajes Wed 09 Dec 15 @ 7:50 pm
how do i activaie my usb camera on virtual dj
---
Mensajes Fri 15 Apr 16 @ 11:50 pm