Forum: General Discussion


About VirtualDJ and DJing in general

---
If you need extended support, contact our Support Team.
Forum Guidelines  (*) The moderators hold the rights to move or modify posts in order to keep the discussions clear or to facilitate the search.
Tema: Thanks ! ADION fot this great 32 bits AUDIO ENGINE in Virtual DJ 8.2

Hi Adion,

I've a DDJ-1000, and have spent several hours/days/months with Rekordbox V5.

I've always found that the sound of Rekordbox with several good settings (AUTO GAIN ON/OFF - with the default - 9dB Headroom and others), something was wrong, strange. (With music/mastering not highly compressed)

I've done several Audio comparaison between Virtual-DJ and Rekordbox with same DDJ-1000 audiocard.
( But i've disable the midi master volume in the default midi script for the DDJ-1000, because, the volume have to be to the max between the software and the DAC of the DDJ-1000, DJ 1000 has it's own hardware master volume after the internal AKM AK4458 DAC of the DDJ-1000 controller, and Rekordbox work with maximum volume to the DDJ-1000, and the volume is hardware controllled after the DAC )

I've to say that the 32 bits Virtual DJ Audio engine is far far better than the actual Version of Rekordbox 5.4.2.
And the normalized auto gain of Virtual DJ track (after one first auto analyze) is far far better.

In rekordbox the sound is compressed before that the limiter could clip... lifeless (like a FM compressed RADIO)

I think that in Rekordbox each deck is Audio compressed, even at low level before master mix.
Same result with the Rekordbox AUTO FAIN OFF/ON - several headroom settings.....

I can hear this and see that the VU-METER of the DDJ-1000 behave better (quickly) with Virtual DJ 8.2 than Rekordbox (VUMETER seems to be blocked as if the music was more compressed than the master, even if with low level and limiter off)

So, now i will use Virtual-DJ because it's sound better than Rekordbox V5.4.2 and older version, with a Pioneer hardware (DDJ-1000)

Thanks, Adion, you are a great developper than take care about Audio quality. :)

I've spent money in Rekordbox lighting, but now i have to use Virtual DJ and buy Soundswtich for my DMX lights.
Just because i want a DJ software with good audio quality.

And , again, Virtual DJ 8.2, has the better AUDIO ENGINE in 2019.

Please, don't change anything in this great 32 bits float Audio ENGINE. Thanks Adion !

sorry for my poor english.

Regards,

O.B

But the great fx "the low cut echo" and "enigma jet" are missing in Virtual DJ.


---
Mensajes Fri 11 Jan 19 @ 9:24 pm

olivierbergman wrote :

But the great fx "the low cut echo" and "enigma jet" are missing in Virtual DJ


Are they fx from rekordbox?
---
Mensajes Sat 12 Jan 19 @ 4:44 am

Hi,

Yes, those fx in software mode from Rekordbox.

Regards,

---
Mensajes Sat 12 Jan 19 @ 9:32 am

...
---
Mensajes Sat 12 Jan 19 @ 9:33 am

olivierbergman wrote :

Hi,

Yes, those fx in software mode from Rekordbox.

Regards,




Do you have a couple of links to precisely what you mean (as in: when they are in use in Rekordbox, and it's clear what they do)
Maybe we can find/get them for VDJ :) (VDJ supports third party .vst effects)

Or have you tried the old FlaneJet effect:
http://virtualdj.com/addons/12303/FlanJet.html

Or the newer Flanger HQ effect with Jet enabled in settings:
http://virtualdj.com/plugins/index.html?category=effects&search=flangerhq

Oh, and if you haven't noticed, the std Echo in VDJ has a lowpass filter you can set (see below)
I don't know if that's similar to the low cut echo you talk about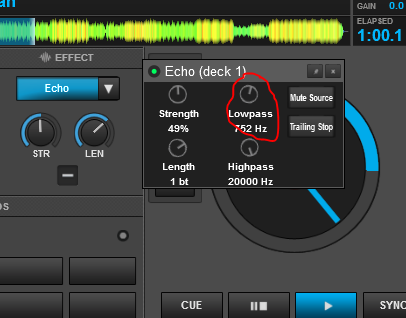 ---
Mensajes Mon 14 Jan 19 @ 12:46 pm