Add-On
Downloads this month: 15 089
Total downloads : 119 293
Popularity: 17 152
Rating: 4

A Pioneer inspired skin which gives a familiar layout including both 'color' and 'beat' fx sections. Version 1.3 has ten panel options and a floating browser window. (1920x1080)
Pioneer
XDJ-RX
CDJ
DJM
ColorFX
BeatFX
FloatingBrowser
Split
Browser
Scratch
Date added: Thu 18 Jun 15 @ 6:03 am
Last update: Tue 29 Nov 16 @ 2:39 pm
1.4
Comments
Downloads this month: 9 701
Total downloads : 53 291
Popularity: 11 150
Rating: 3.7

Renovated custom skin for lovers of added features multiple variables pioneer browser and controller, variable waves of rhythm and much more ...
ddjsb
skinddjsb
ddjsbbykaoz
Date added: Tue 10 May 16 @ 6:16 pm
Last update: Fri 07 Dec 18 @ 4:04 pm
2.1
Comments
Downloads this month: 5 212
Total downloads : 39 031
Popularity: 9 913
Rating: 4.3

The new "Controller HD by DennYo" Skin with VDJ 8.2 Support. (PADs, New Scratchwaves, ...) For more informations visit the Skin Forum. Please write questions only in the Skin Forum. You can find a Manual in the Skin.ZIP and on my Blog.
Date added: Tue 25 Oct 16 @ 1:32 pm
Last update: Thu 17 Aug 17 @ 4:55 pm
2.0.0
Comments
Downloads this month: 4 974
Total downloads : 10 903
Popularity: 3 017

a skin for screen touch with Windows
Date added: Mon 22 Oct 18 @ 8:33 am
Last update: Wed 12 Dec 18 @ 3:36 pm
1.4
Comments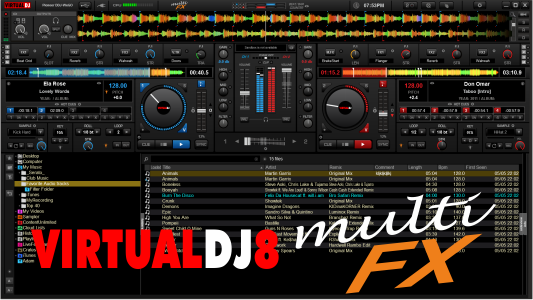 No full screen previews
Downloads this month: 4 443
Total downloads : 41 325
Popularity: 5 958
Rating: 4.3

Updated version of the MultiFX skin. Introduces the "Rack Panel" system. Video Support. ArtCover on deck or jogwheel
Date added: Mon 19 May 14 @ 12:09 pm
Last update: Sun 06 Sep 15 @ 11:33 am
1.04
Comments