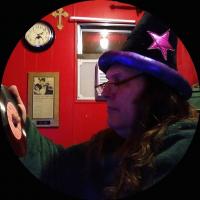 AKA The Dr. of Oldies, Here is a little background of a few things I've done. It's not everything.

Teacher , Producer, Writer, Musician, DJ, not all in that order. Member of the honor society Phi Theta Kappa, First gig was at Howard University 1990. Worked with Jack Clement in Memphis in 1989 , and Atlantic records as an apprentice in recording engineering at the warner building, Numerous weddings, car shows. I was featured on the morning today show in Oct 1991, aka Gas Station DJ , NPR radio 11-11-1991, associated press Jan, 13, 1992, interview with John Holliman, CNN, studied at the Broadcasting Institute of Maryland in 1994, worked at WCEM AM FM, WAAI, WTDK for 8 years, 1996-2004,...
DDJ SX2 how do I script the flip option modes and what are they?
Mon 07 May 18 @ 6:50 am
I know that there have been some blogs to solve some of the issues about the flip mode options on other controllers that have this feature. I would like to know the script to make this option work on the DDJ SX2 please. I already have a serato flip license, but I just don't like using Serato. I like Virtual dj. I have been using it for the last 20 years. Any developers want to take this on?