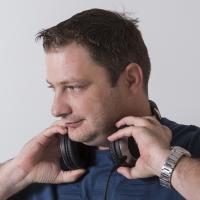 Hi, I'm George!
I started to involve with dj-ing in 1992. I have been a Digital Jockey since 1998, and from year 2000 and afterwards I've went EXCLUSIVELY Digital (meaning that I don't use other media for my gigs).
I have been involved with some dj software titles development and beta testing all these years, and of course I've been an active member of various dj communities.
I have worked as an audio engineer for several years, mainly in the PA field covering various live performances from small bands up to some big names of the industry.
Currently I'm a resident Dj on a small club of a small town in Greece, and in collaboration with...
DENON DN-S3700 Config [EN]
Thu 15 Dec 11 @ 5:56 pm
First of all please ensure that you have the latest firmware installed on each DENON DN-S3700:
http://www.denondj.com
Install the latest DENONDJ ASIO drivers on your PC for your DN-S3700 (Currently Ver. 2.2.1)
Connect your decks directly on your PC USB ports for the first time in order to install the drivers. Later you can use a powered USB hub if you don't have enough free USB ports on your PC.
Once you connect your decks on the PC press the "MIDI" button on S3700.
The word "MIDI" should flash on the display and the Parameters Knob should start flashing:
If the display shows "Hybrid MIDI" instead of MIDI just turn the parameters knob until you see"MIDI" on your display.
Push the Parameters knob down. Your decks will enter PC mode, and Windows will install the drivers.
While the decks initialize their communication with your PC the words "PC MODE" and "Connecting" should appear on the display: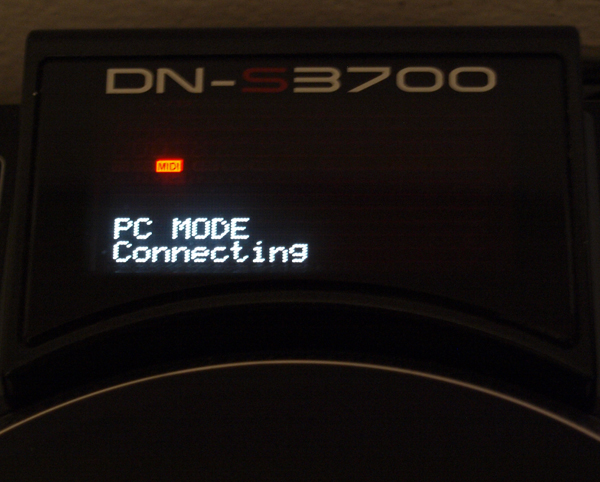 When the initialization is over, the words "PC MODE" and "Completed!" will appear on the display. Now your decks are ready!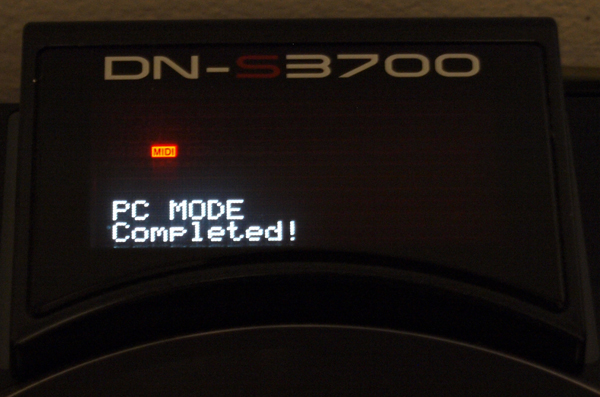 Open the DENONDJ ASIO Control Panel and make sure that you see two devices listed, and that BOTH has a check mark in front of them!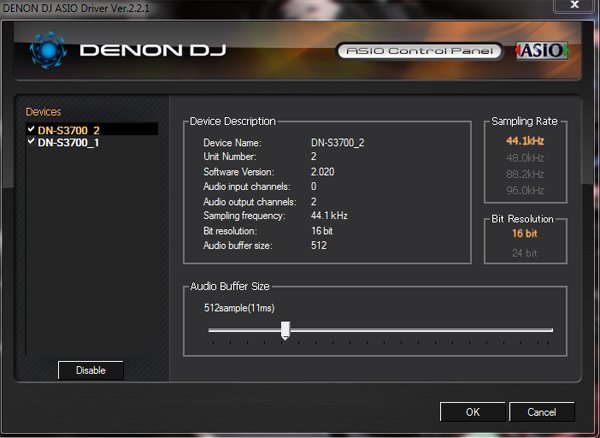 Close DENONDJ ASIO control panel, start VirtualDj and open the configuration window.
Make sure that your settings are as follows:
Inputs: None
Outputs: External Mixer
Sound card: ASIO -> DENON DJ ASIO Driver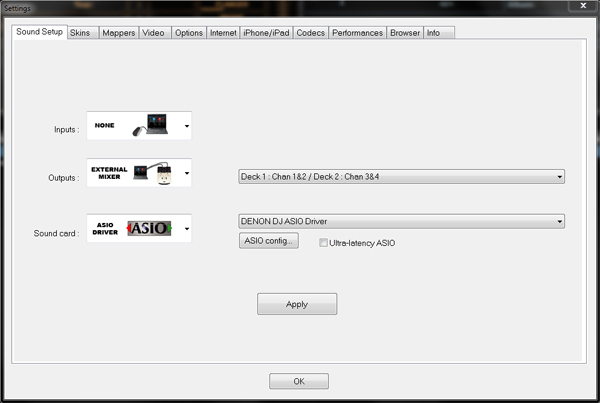 Click APPLY.
Now you are ready to enjoy your DN-S3700 with VirtualDj!!!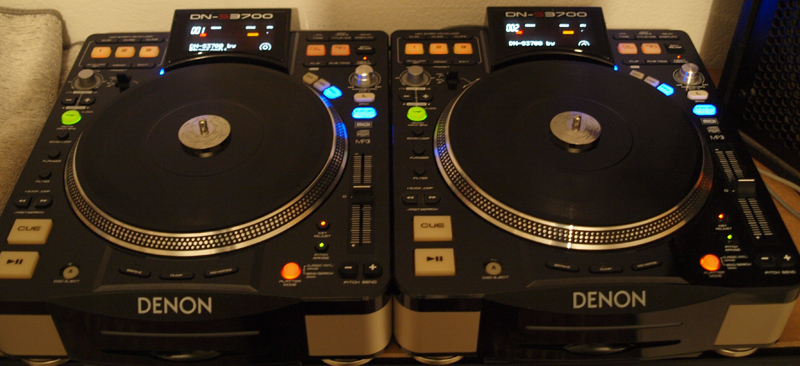 PS: If your left deck controls the right side of VirtualDj then you should press the "Eject" button on ONE of your decks (not on both). This will invert the decks.
Playing CD's or USB media:
If you switch to CD or USB media mode while VirtualDJ is running this will cut off the sound card and the MIDI driver (The equivalent of pulling out the USB cable) and you will get a sound card error in VirtualDJ.
Once you have switched back to PC mode, you can go to CONFIG -> Sound Setup and click APPLY to reset the sound. You will also have to map a button on your keyboard with the following VDJ Script code:
rescan_controllers & refresh_controller
in order to re-detect the decks in order to take back the control.
If you wish to switch seamlessly between VirtualDJ and CD's or USB media, then you will need to use an external sound card with at least two stereo outputs such as Numark DJIO, Native Instruments Audio 2 DJ, etc. However you'll still have to use the VDJ script command mentioned above in order to re-detect your decks.
Troubleshooting:
Please ensure that you have the latest firmware installed on each Denon DN-S3700:
http://www.denondj.com
- If the units have older firmware installed, they may not work correctly.
Make sure both players are set to the default MIDI channel 1 (Do not change the second player to channel 2 or it will not be detected by VirtualDJ.)
Make sure that Unit Number is set to 1 on both decks. Also make sure that Jog Pulse Sel is set 1480/Cycle. Currently 2960/Cycle is not supported!
TODO:
How to use your decks in Hybrid Mode!