VDJPedia
Last edit by ianmelville, Professional edition user on Tue 21 Feb 12 @ 9:15 am
Pioneer DJ Products DVD/CD Decks/Mixers & Setup diagrams for HID & TIME CODE CD
DVJ 1000 - Professional Grade DVD Video/CD Deck with MP3 - [Full Size Jog Wheel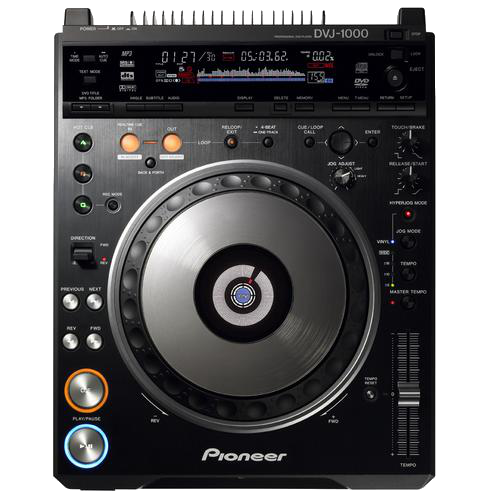 Get the best of both CD and DVD worlds. Scratch , loop and cue both audio and video with the DVJ1000. Offering the same operation and layout as the CDJ-1000MK3 , but with enhanced DVD specifications, the DVJ-1000 offers a convenient way to add visuals to your set. Manipulate DVDs as you would music - digital video scratches, loops and instant cues are all possible. You can perform audio-only sets while having the option to mix in DVD, with the power to setup instant hot cues or reverse play for synchronized audio and video. The best of both worlds. Additional features include MP3 compatibility, a brighter and larger wave display, compatibility with studio quality 96kHz/24-bit audio and innovations like 4 x hyper jog mode and a back and forth loop button. It's a globetrotter, too - playing both NTSC and PAL DVDs using a built-in standards converter; ideal if you're working with DVDs from both Europe and the States
CDJ-2000 - Pro-Grade Digital DJ Deck - HID - Sound Card - Full Size Jog Wheel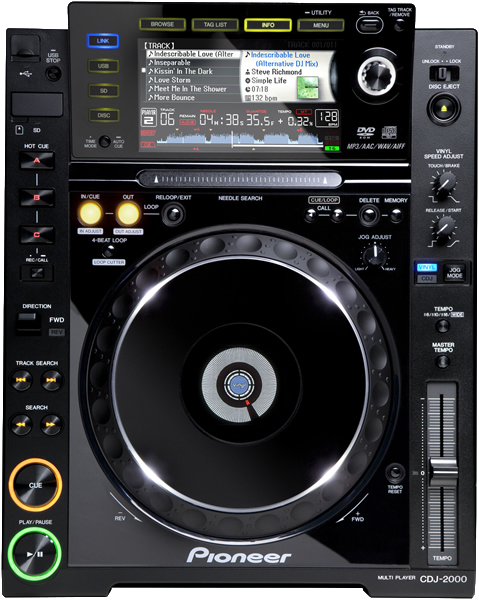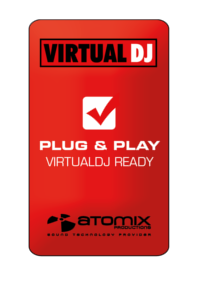 You can assign various buttons of the cdj 2000 to trigger other devices, such as dj effecters and software with midi mapping capability. With Pioneer's new "pro dj Link" you can connect up to four cdj 2000's and share a single music source from just one player, For displaying song titles, sleeve artwork as well as detailed track information, the cdj 2000 has a unique 6.1" full color lcd panel and graphic user interface so djs can find information needed to select a song easily at a glance.
Below the screen is an industry-first waveform Needle Search/needle drop ribbon, so that all the convenience of direct file browsing can now be found in an intuitive hardware format. Add to these features a highly evolved illuminated jog wheel, and an overall enhanced design, complete with carry handles and Kensington lock, and you have the ideal digital innovation for total performance and seamless synchronisation. The cdj 2000 includes Rekordbox, Pioneer's proprietary music management software that organizes and catalogues your entire music library.
When music files are imported to Rekordbox, the software analyzes each file and prepares them for use specifically with the new cdj turntables. The Cdj 2000 is the natural selection for performing Djs worldwide
CDJ-900 - Professional Multi Player - HID - Sound Card - Full Size Jog Wheel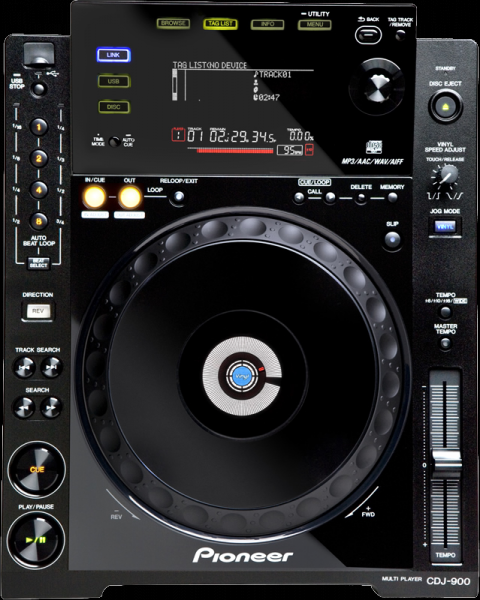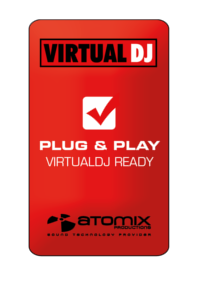 A usb input allows the dj to play tracks directly from a flash drive or hard drive, whilst the new lcd screen interface provides much more track browsing information than ever before. Building on the previous model, the 900 features 6, 10, 16 and 100% pitch range values, allowing for a much more user-defined mixing experience. The revolutionary 'slip' function silently continues song playback during a loop, reverse or scratch and continues audible playback at the exact time when the loop, reverse or scratch is ended creating smoother transitions.
Also, the new Pro dj link feature (exclusive to the Pioneer dj range) allow up to four cdj 2000s or 900s to be connected in sync to play media off a single source. In order to aid the professional dj, Pioneer have released and included the 'rekordbox' music management software, helping you to quantize, set cue points and mange your personal music library. In addition to all of this, the usb output on the rear allows direct connectivity to pc, for realtime control of leading dj software VirtualDJ
CDJ-850 - Professional Multi Player - HID - Sound Card - Full Size Jog Wheel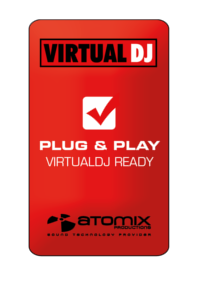 Pioneer cdj 850 utilises the same large 206mm jog dial for continuous, free and easy track manipulation, alongside a rotary selector and browse buttons integrated within the display. Building on the formidable cdj 800, which was pride of place in many a home dj and club setup, the 850 now features a slightly larger screen to integrate the essential 'waveform' track display. Adapting to today's variety of media formats, the cdj-850 enables playback of mp3, aac, wav and aiff audio files from Cds and usb memory devices.
A usb port located on top of the turntable enables users to quickly connect an external storage device such as a hard drive packed with music files, minimizing the need to bring a laptop computer to your gig. Like its older brothers, the The cdj-850 turntable includes rekordbox, Pioneer's proprietary music management software that organizes and catalogs a Dj's entire music library. When music files are imported to rekordbox, the software analyzes each file and prepares them for use specifically with the cdj 850.
Also, an intuitive Tag List feature allows you to think ahead 10, 20 or many more tracks by arranging temporary set lists on the fly. Uniquely to the cdj 850, you can save this as a playlist and recall it later in rekordbox, or edit it on the fly. As with the cdj 2000, the 850 also features usb hid connectivity, so you can use it as a control surface for dj software such as VirtualDJ, without the need for time coded Cds! The familiar auto-beat loop features in the top left of the unit, allowing you to be even more creative in the mix.
CDJ-1000 MK3 - Professional Grade Digital CD Deck - Full Size Jog Wheel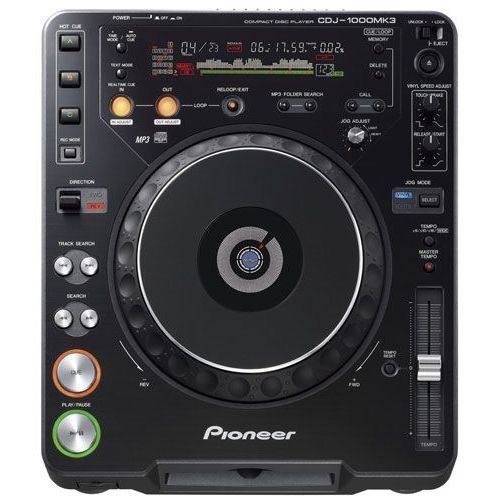 The new industry standard CDJ-1000MK3 provides full MP3 compatibility, a HOT LOOP feature, JOG wheel feeling adjust and improved presentation of track and WAVE data along with support for SD cards to store cues and loops. A brighter improved resolution on both raised jog wheel display and main display further enhance performance for DJs.
CDJ-800 MK2 - Digital CD Deck with Scratch Jog Wheel - Full Size Jog Wheel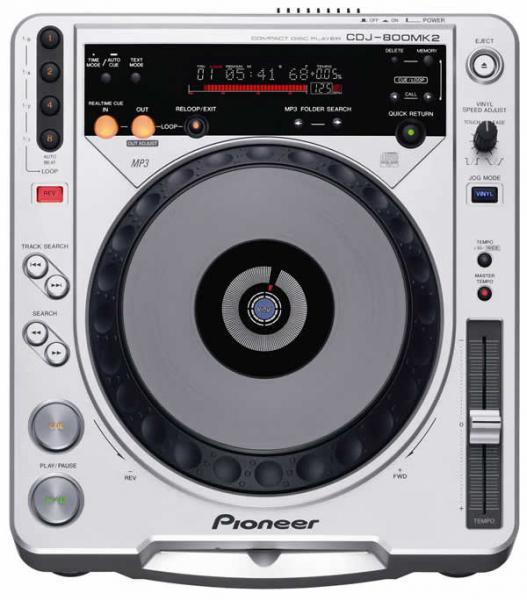 The CDJ-800MK2 provides full MP3 compatibility along with a stylish silver metallic finish and metallic JOG buttons. MP3 tracks can be operated in the same way as CDs as the deck is equipped with 'Folder Search', and in 'Text Mode' the artist name, track title and file name are shown on the improved resolution display. Professional CD Player Stylish New Silver Finish MP3 Playback Refined Jog Feel adjust
CDJ-400 - Digital CD Deck with MP3 - HID - Sound Card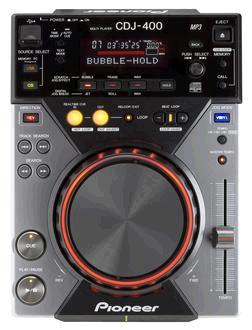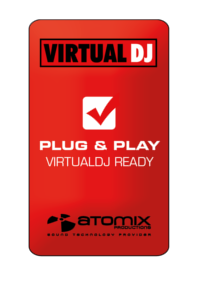 Designed for DJs by DJs and drawing inspiration from our industry standard CDJ-1000 series, the CDJ-400 is a flexible, affordable performance player for the aspiring club DJ to use at home. The CDJ-400 allows you to play your MP3 collection off CD-R/RW discs as well as music from mass storage USB devices, such as USB keys, external hard drives and portable media devices. The deck also features the world's first Scratch Jog Effects , with three creative scratch effects and an amazing new Loop Divide function. Compatible dj software (VirtualDJ) via usb midi connection, allowing you to take full control of your audio library.
CDJ-350 - Digital CD Deck with MP3 - HID - Sound Card. Also in white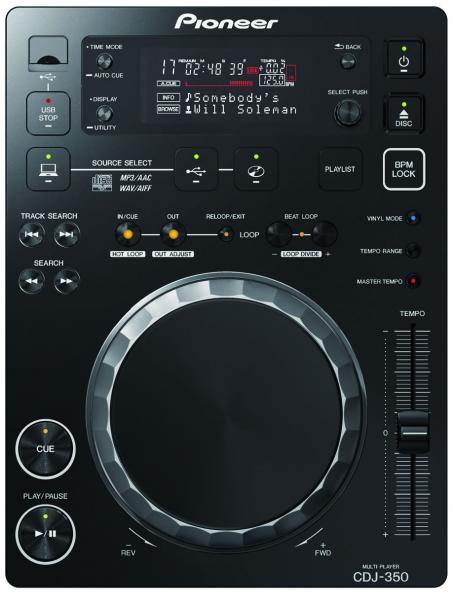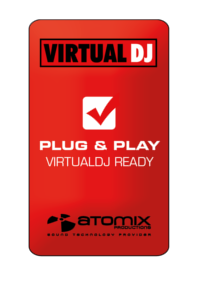 Pioneer cdj-350 is an affordable, user friendly cd deck that offers effortless, straight forward dj performance operation of its feature packed design. Compatible with all of the standard audio formats such as mp3, aac, wav and aiff, the Pioneer cdj-350 offers versatility never before seen in a dj cd deck, allowing you to play back such audio via cd, cd-r/cd-r or usb device, as well as regular music cd's so you can enjoy djing with all types of media and audio formats. Supplied with the Pioneer cdj-350 is the awesome music management software Rekordbox.
Connecting the Pioneer cdj-350 via usb to your computer, this software not only analyses the bpm and beat positions of songs, but enables you to select by genre, album and artist - and saves all this information for next time you go for a mix. The intuitive 'beat display' function is also incorporated into the Pioneer cdj-350 display, showing the beat position of a song and playback point. This gives you a 'hand/eye/ear coordination advantage when mixing to aid practice and performance tricks such as scratching and looping.
Another creative feature bundled into the Pioneer cdj-350 is the 3 types of loop performance options: beat loop, loop divide, and hot loop. With one press of a button, these auto loop functions can repeat bars, hot loop and be manipulated to create different rhythms over the original track. Another amazing feature on the Pioneer cdj-350 is the integrated bpm lock, which allows you at the push of a button to beat match a song to the master bpm that is set on the other deck, making it easy to beat match between two decks.
Also at the press of a button a song can be transferred to a playlist in rekordbox, allowing you to organise and remember tracks you have played for use in a later session. One of the most useful and insightful features of the Pioneer cdj-350 is the ability to control compatible dj software via usb midi connection, allowing you to take full control of your audio library. This usb connection also means the Pioneer cdj-350 can be used as an audio interface, allowing you to record audio and backup digital copies of your vinyl through the cdj-350s aux input.
CDJ-200 - Digital CD Deck with MP3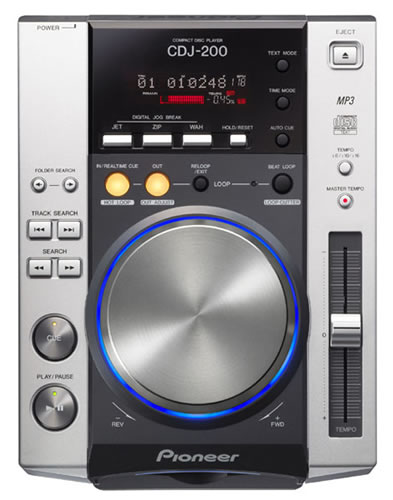 Creating a new standard at this price point for pro-dj cd decks, the cdj200's technical excellence is complemented by a design that's both visually stunning and dj friendly. The cdj-200 is fully mp3-compatible, with a unique folder search to locate the correct tracks quickly. When playing a cd/mp3, the name of the disc, artist and song on the unit's bright dot-matrix window is displayed, with a bar graph to show the time remaining/elapsed of the track, plus an auto bpm counter for easy mixing.
The cdj200's master tempo function has not one but three different settings, and like the cdj100s before it the cdj200 features three effect buttons (jet, zip & wah) for creating original sounds as the dj manipulates the jog wheel. Add to this a digital output, fader start compatibility and the advanced cueing & looping functions.
CDJ-100S - CD Turntable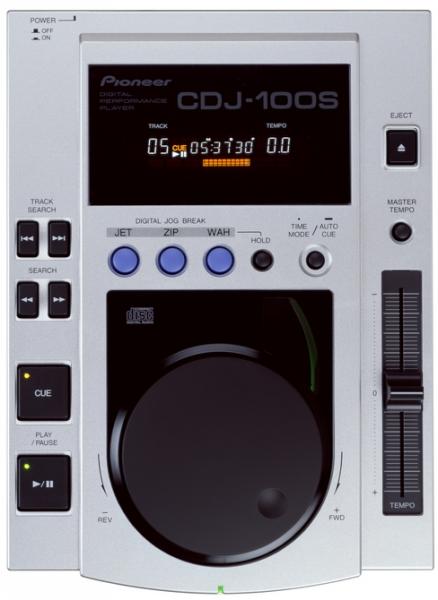 The cdj100 is a professional cd deck that set the bench mark for the cdj market. Featuring the original jog wheel technology, three built in effects and the essential key correction. Ever popular in clubs and with pro djs.
MEP-7000 - Multi-Entertainment Player and Controller
Not compatible with Mac OS X 64 bits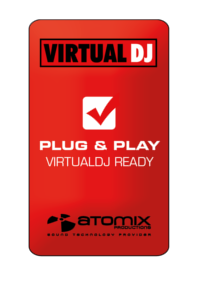 The mep 7000 is a multi-entertainment player and controller, that facilitates almost every form of dj entertainment in a single unit. Via it's usb interface, the mep 7000 furthers it's cd/dvd playback with digital music playback from usb storage devices, such as usb memory sticks, mp3 players and external harddrives, the usb computer link-up and midi data send function also makes the unit compatible with software, such as VirtualDJ. Whatever your playback choice, the user interface will facilitate with an unparalleled level of control.
Each of the amazing controls can used on your audio, whether is an mp3 on your harddrive, a .wav file in your software or a cd in the drive. An innovative 4.3" colour lcd screen with high visibility, intelligent graphic user interface and a rotary selector assists with rapid track searches from huge music libraries. The mep 7000 screen adopts an industry-first area-colour oel (organicelectroluminescence) display, ensuring that the user can see performance data in harsh lighting conditions.
Thanks to a video output, and cdg compatibility, you can also playback karaoke discs with the video information displayed on the mep's screen as well as a connected monitor. Along side the versatile screen, you get complete dj control. Pitch faders, play back buttons, hot cues and looping are all featured, just like an industry standard cd deck.
The mep 7000 has two high quality touch sensor jog wheels too. The jog wheels can be used for controlling music with vinyl turntable emulation for controlling an array of built-in effects. Conveniently, the mep-7000 also has an auto mix function that allows auto mix playback of tracks registered on the play list.
There are then 4 patterns of mix mode (echo, zip, cut in and cross fade), allowing music to be mixed in a selected style and played automatically. For mobile djs, the mep 7000 means you have all the convenience of usb harddrive djing, all the benefits of software djing, all reliability of cd/dvd playback and the addition of karaoke performance. For installed purposes, the mep 7000 means you can cater for and offer the complete musical entertainment service, all from one unit.
SETUP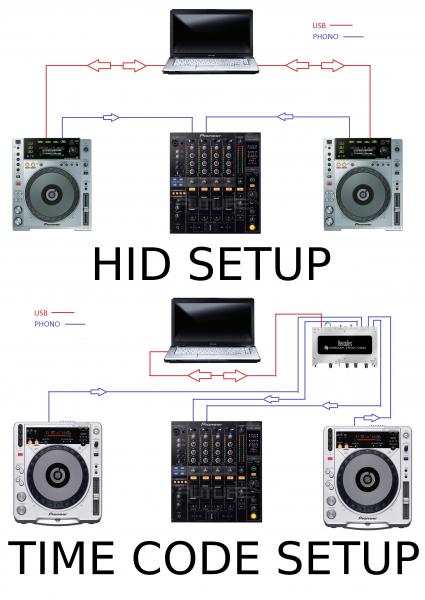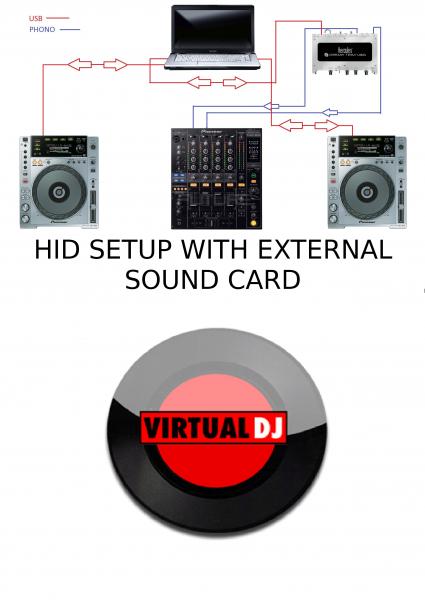 CDJ SKIN ----
http://www.virtualdj.com/addons/13645/CDJ_EXTENSION.html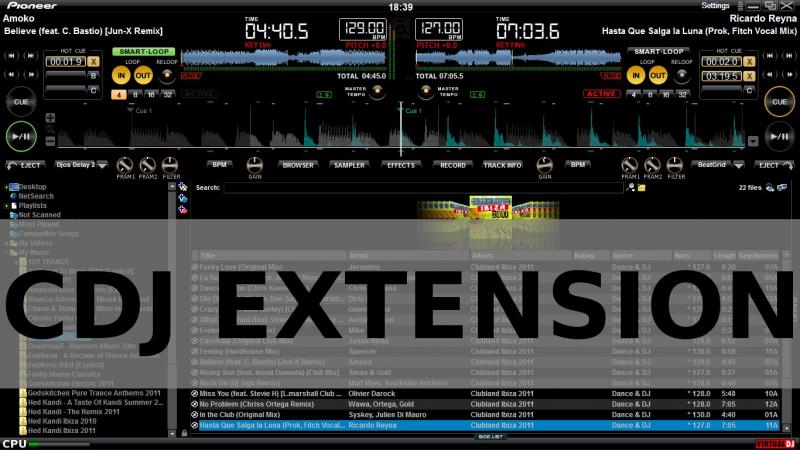 Firmware, Drivers and software
http://forums.pioneerdj.com/forums/20095718-firmware-drivers-software
Pioneer DJ Products Mixers
SVM-1000 - 4-Channel Audio and Video Mixer
DJM-2000 - Performance Mixer
DJM-1000 - 6-channel Performance Mixer
DJM-909 - 2-channel Performance Mixer
DJM-800 - 4-channel Performance Mixer
DJM-700-K - 4 Channel Mid-Range Digital Mixer (Black)
DJM-700-S - 4 Channel Mid-Range Digital Mixer (Silver)
DJM-707 - 2-channel Performance Mixer
DJM-600 - 4-channel Performance Mixer
DJM-400 - 2-channel Performance Mixer
DJM-350 - 2-channel Performance Mixer with USB record