VDJPedia
Last edit by gribouillon, Experienced pro user on Tue 14 Jun 11 @ 5:00 am
Denon
Website -
http://www.denondj.com/
Support -
http://www.denondj.com/support.asp
How to setup my Denon\'s with VirtualDJ
--
Denon MIDI Setup
Tuto Denon DNS-3700 in Hybryd mode with VirtualDJ v7 :
http://www.virtualdj.com/homepage/DJCB/blogs/4271/Tuto_Denon_dns_3700_Mode_Hybride_VDJ_7.html
Tuto Denon DNMC6000 in Hybryd mode with VirtualDJ v7 :
http://www.virtualdj.com/wiki/DN-MC6000.html
HC-4500
Press Release (PDF)
HC-4500 Spec Sheet
Ever since the needle hit vinyl, DJ's have been setting the standard for what's hot. Denon comes from that same philosophy and passion–leading the way and creating the path for DJ evolution. That path has lead to the DN-HC4500, Denon's first USB MIDI/Audio interface designed exclusively for computer performance club and mobile DJs worldwide. This feature packed professional PC/MAC compatible controller combines unmatched hardware performance with internal high quality audio processing offering low latency ASIO/OSX Core Audio support.
Wiki HOME
DN-S1200
Spec Sheet
Software Plug-in
MIDI Protocol
Manuals
Outputs Advanced config Mode Recording Using 4 decks With Virtual DJ Pro 7.2 Mac!
At last, these are the settings to record with Virtual DJ Pro 7.2 Mac using 4 decks or more with Outputs Advance confi :
1. you need to download Soundflower for Mac:
http://www.macupdate.com/app/mac/14067/soundflower
2. Install soundflower on your Mac.
3. Open Virtual DJ Pro 7 and go to Outputs Advance config.
4. Follow the pic and you should now be able to record your mix within Virtual DJ Pro 7 like before. Note in my case i am using two Denon DN-S1200s.
Add a master Output, in the middle of the drop down zone use Soundflower (2ch) and last column drop down use output 1 & 2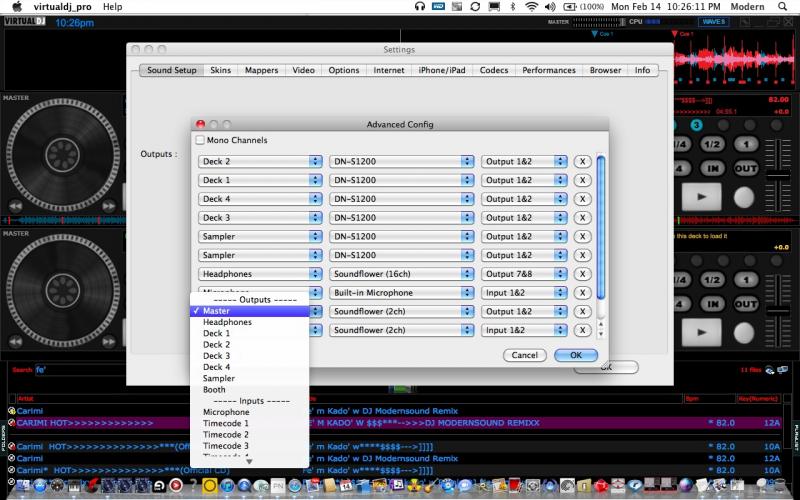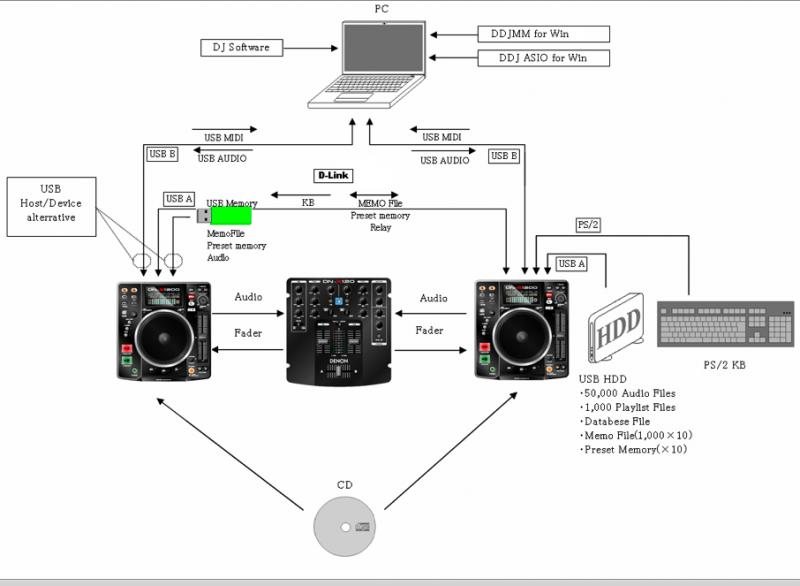 A little visual pictures of how to setup Denon DN-S1200, Denon Mixer DNX120, and Virtual DJ Mac version. To setup Virtual DJ Mac and Denon DN-S1200 soundcards with DNX120 mixer you need to create an aggregate.
http://www.apple.com/pro/techniques/aggregateaudio/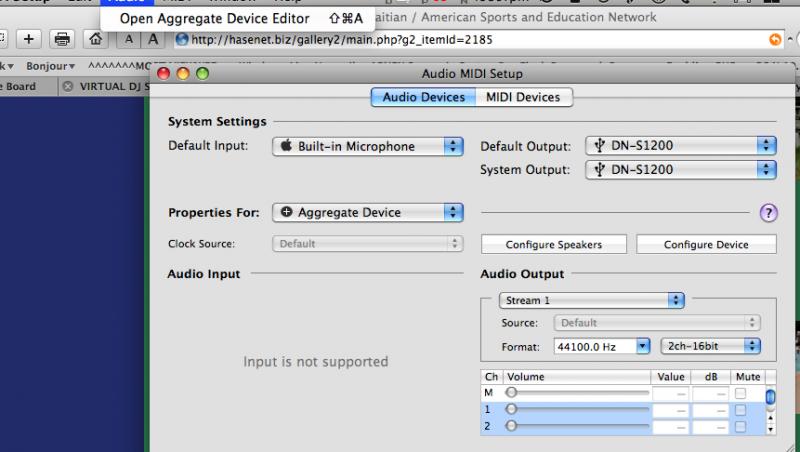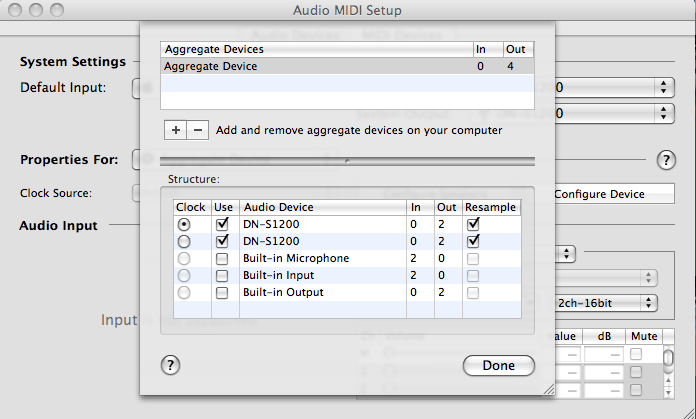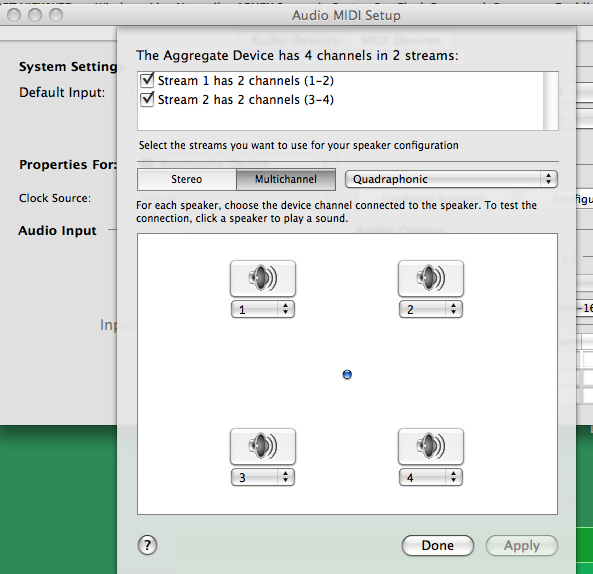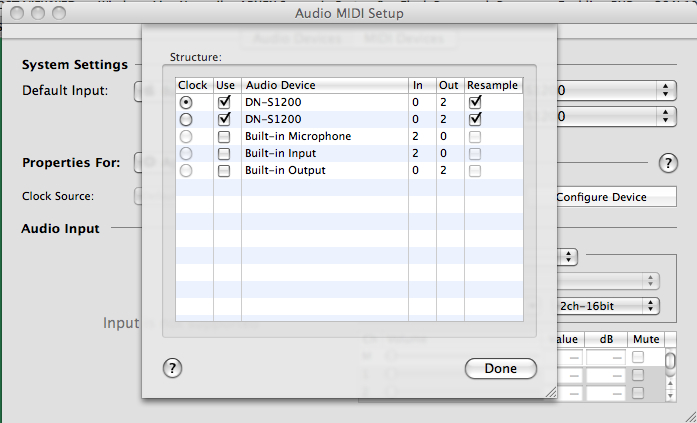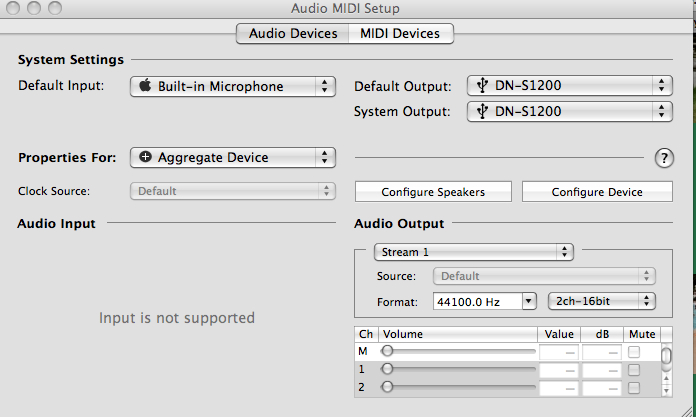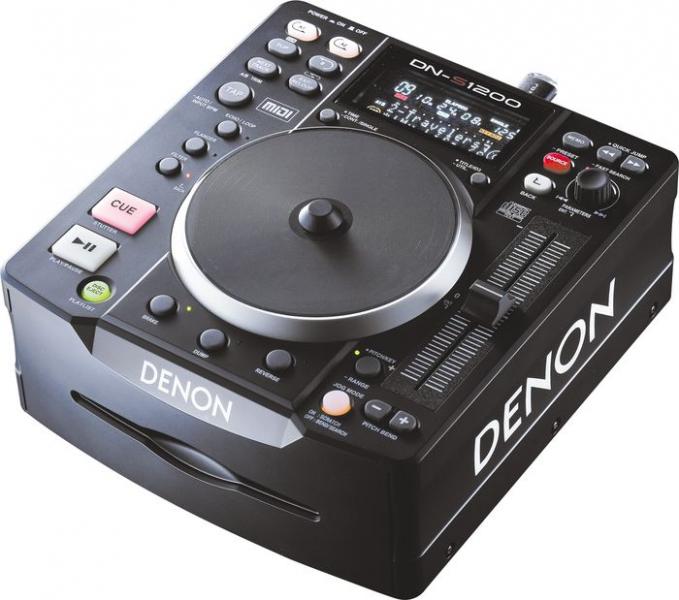 Denon DN-S1200 and DN-S3700 Configuration process and VDJ Mac ver 6.0.2
Soundcard assignment is still a tricky thing to get them to work in VDJ mac ver 6.0.2 and two DN-S1200 DN-S3700 players.
Follow this link to setup your Mac Aggregate first:
http://www.apple.com/pro/techniques/aggregateaudio/recording.html
1. one first has to install the previous VDJ Mac ver5.2.1
2. one has to assign left deck as player 1 and right deck as player 2
3. one has to assign the soundcard in the souncard option as follow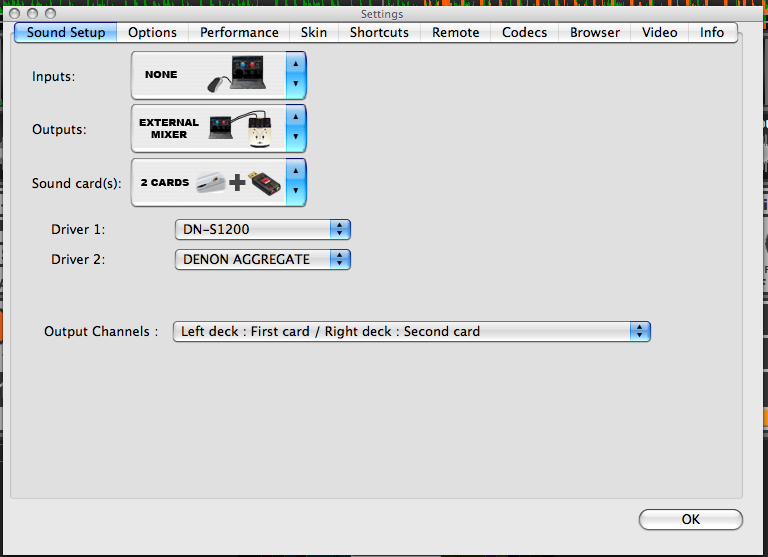 4. set up midi to general midi in remote option in Virtual DJ
5.make sure both decks work and close
6. Now you are ready and should proceed to install VDJ Mac ver 6.0.2
7. Go to mapper option In Virtual DJ and go to keyboard mapper option, scroll down to new and add press any keyboard key you prefer on your Mac ex: I use the button I and type in the box this command
Invert_controllers
8. When you are done close the mapper option
9. Assign both players as deck 1
10. Load two different tracks on both decks and play them. If left deck actually plays on right and left deck vs press the keyboard button you have previously assigned above to the command invert_control, now both deck should work properly!
Good luck!
Denon DN-S1200/DN-X120/Laptop Setup Diagram
Denon Mixer made for the DN-S1200 Is the DNX120
DJ Mixing Method for using DJ Modernsound DNS1200 mapper
http://www.virtualdj.com/addons/6717/DN-S1200_MIDI_Mapper.html
1--load the first song and press the cue button to start the first song from the pre-programmed cue button
2--with either the cross fader on the side with the active song playing or the cross fader in the middle with the active deck channel fader up and the song being cued on the other deck with the channel fader all the way down.
3--With headphone on load the other deck with the song planned to be mixed into.
4--press the Echo/Loop button to Synch the Cue song with the actual song being played on the PA system, and press the A2 button.
5--Now you are ready to play the cued song with the fader still being down, hit the cue button at this point.---(if song is not totally synch either hit the Echo/lop button to automatically synch the two songs together or hit the cue button again several times til you get the 2 songs to synch.
5--At this point you may choose to count either 4 beat in your head or 8 or 16 beat and hit the B button to loop the Cued song (or the new song) you are about to mix into.
6--Using the eq button and other tricks your new song Is now playing. Do not forget to either turn down the channel fader of the old song that you are fading out of or move the Cross fader all the way to the other side of the new song you are mixing into.
7---Press the Flanger button to bring the normal pitch of the button to Zero
8-- Follow the process again for another song!!
Modernsound
Wiki HOME
DN-X120
Spec Sheets
Wiki HOME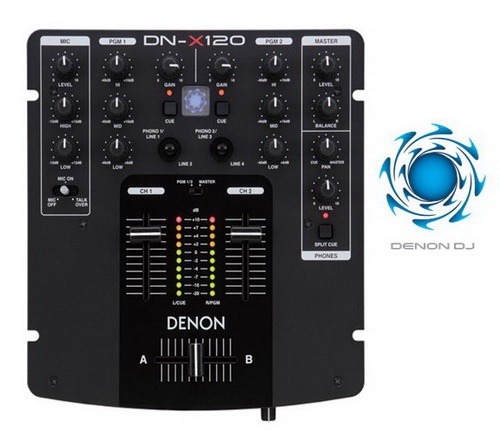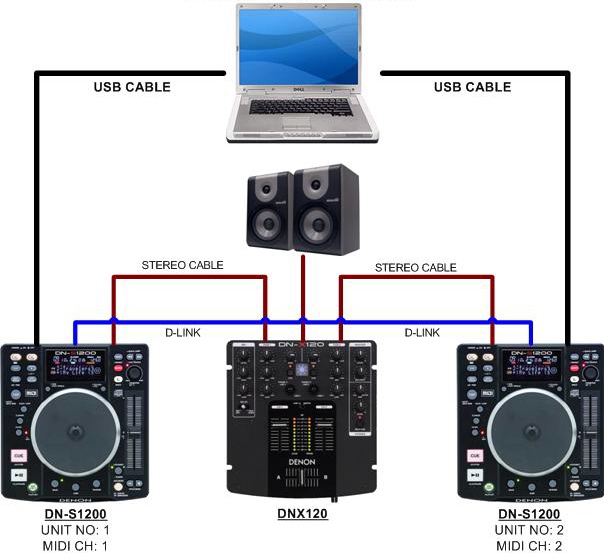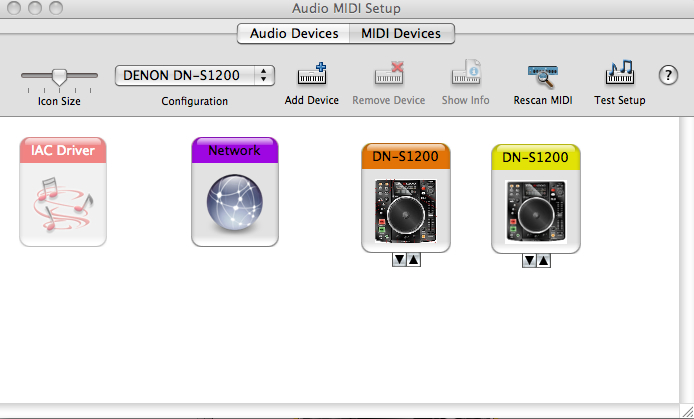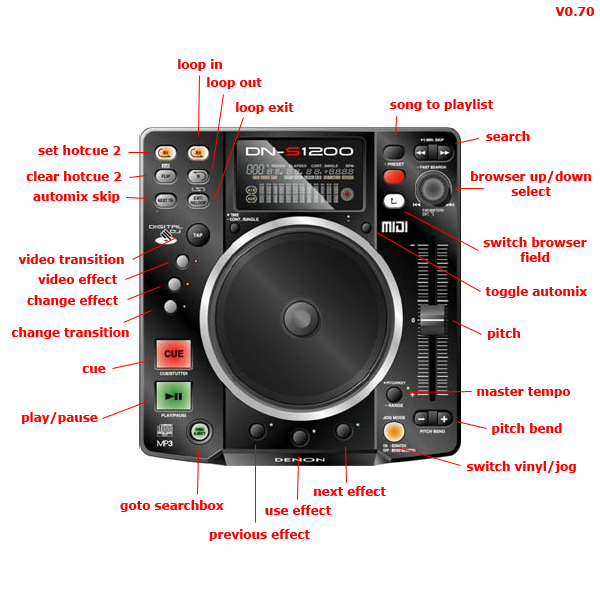 DENON DN-S1200 setup with Virtual DJ ConfigMac Setup
For Beat Matching and Scratching House music, Techno, Club music,Hip Pop, Reggae, Zouk Konpa, Soukous, Meringue, Soca, Bachata, Salsa, world beat etc.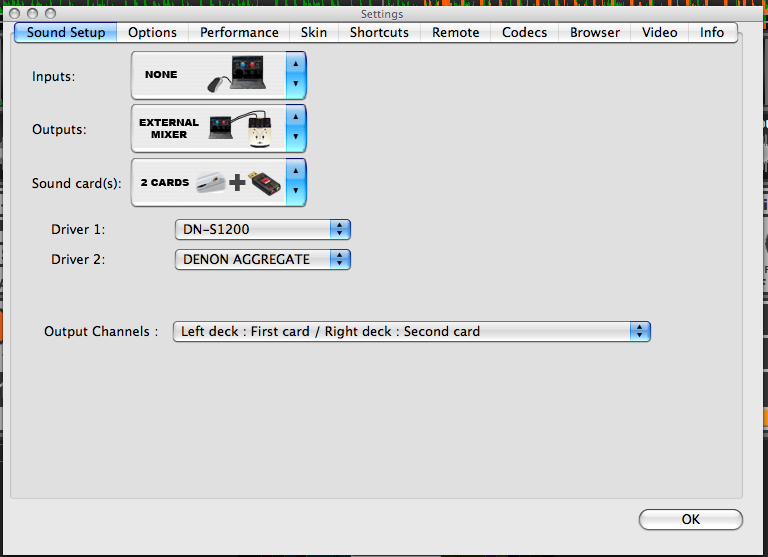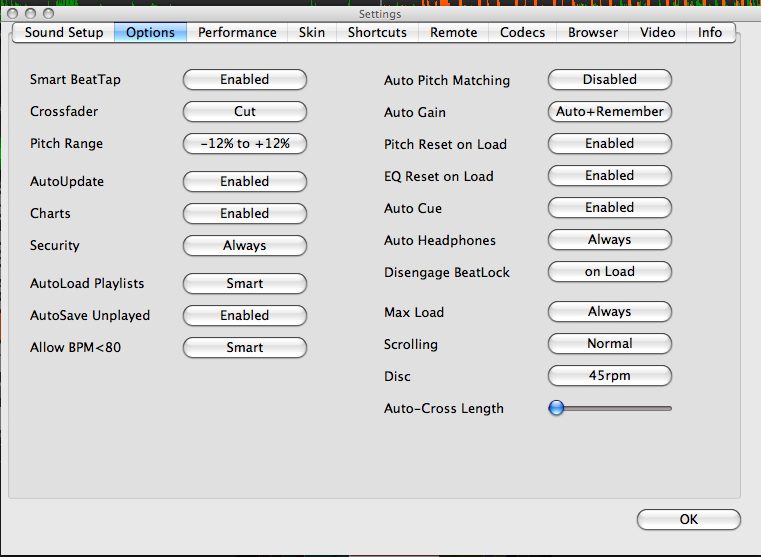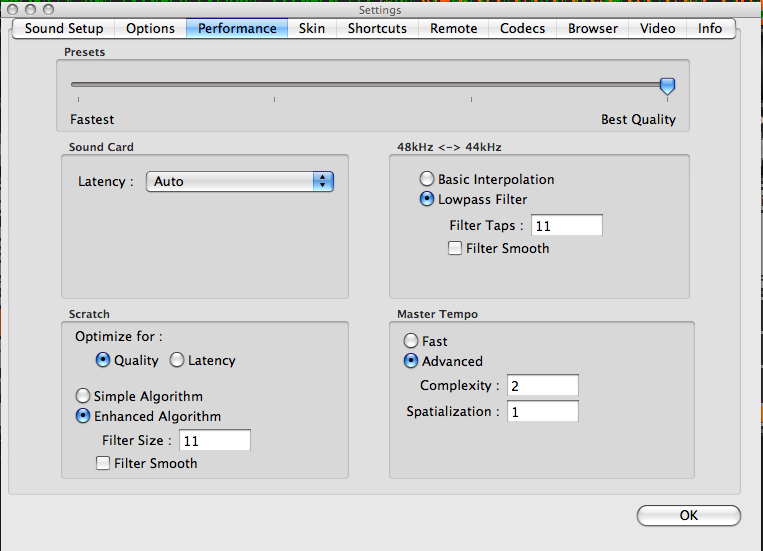 1.Cue Mode -------> Denon
2.Auto Cue--------->-54 dB
3.CFade Level------>-54dB
4.NFile CFade------->3sec
5.S-
Stroke-
--------->Short For Best Scratching
6.3/4 Effect--------->ON
7.
Jump Time
------->10 sec
8.
Pitch Range-
----->+&-16%
9.EOM Time--------->15 sec
10.Fader Mode------>2L P/Cue
11.
Pitch
--------------->Key AdjON
12.Play Mode--------->Single
13.TIME Mode-------->Remain
14.TT Tricks----------->ON
15.Audio Curve------->ON
16.Search Step-------->1step
17.Playback------------>File
18.File Search--------->Artist
19.
BPM Range
-------->+&-10
20.Power On Play---->Off
21.Relay Play---------->On
22.
Region--
------------>USA
23.KB Type------------->English(US)
24.
MIDI CH SET
------->1 & 2
25.
JogTrns Int
-------->1ms for Mac & XP 10 ms for Vista For Best Scratching
26.
Unit No Set
-------->All
Wiki HOME