Forum: Music discussion


Music, broadcast, podcast, playlists and more
Tema: Help Keyboard "Triggers" For Sirens & Horns?

I would like to know how I can set up a keyboard shortcut for a siren or a horn. I currently use the siren on the sample area of VDJ however would like to add different horm/siren and have it trigger like a "cue point" from keyboard. How do i do that?
---
Mensajes Wed 02 Feb 11 @ 3:32 pm

goto config > mappers > Keyboard

then if you look down the list af the "F" keys. you can see that the "F" keys are mapped to play samples from various banks.

all you have to do is load your horns sirens etc into the corresponding sample bank and away you go.

so F1 will be sample 1, F2 will be sample 2 etc.

hope this helps

oh and if you dont know how to load your samples,

goto the "samples" tab. look just below the box that says "play" on the right hand side, there is a little circle button.

this is a load button.

press it and then brows your computer for the sample you want and hit OK.

this will load the sample into the bank you selected and allow you to play it via, either, mouse click or corresponding "F" key.

let me know how you get on. and hope this info serves you well.


---
Mensajes Wed 09 Feb 11 @ 4:04 pm

Helps out. I will work on that later today. Thanks!
---
Mensajes Fri 11 Feb 11 @ 3:00 pm

youre welcome, let me know if you need anything else
---
Mensajes Fri 11 Feb 11 @ 3:11 pm

Thanks Blulite i just started using VDJ and didn't know how to play my samples. i googled and got to this forum now i am enjoying playing my music and this xmas will be at the village wit ths technology. thanks once again
---
Mensajes Wed 30 Nov 11 @ 4:44 pm

Are there keys on my key board that correspond with Virtual DJ? For example if I were to hit the "enter" button on my keyboard or something, then would it trigger "play" on Virtual DJ?
---
Mensajes Mon 10 Mar 14 @ 8:40 pm
---
Mensajes Tue 11 Mar 14 @ 5:54 am

Another good option is a sampler stutter function:

sampler # play_stutter

you can change the number to the sampler slot you want to target, or omit it if you want to target the selected sampler "that's the one shown on the skin. eg.

sampler 7 play_stutter
sampler play_stutter

(copied for a thread synthet1c responded to)
---
Mensajes Thu 20 Mar 14 @ 2:12 pm

hello i have just installed virtual dj, i had vdj 7 but now virtual dj 8 the thing is i cant find any siren or horn can sombody help me
---
Mensajes Wed 25 Mar 15 @ 9:34 am

@user10464604
For this you needed to install VDJ with the samples. During the installation you are asked how you want to install. Select Complete and the samples will be installed as well.
Then inside VDJ you need to open the sampler and browse the sampler banks.




---
Mensajes Mon 30 Mar 15 @ 9:30 am

I will like to know how can I get my sampler on the F Button's to play instead of the other option's eg F2 brightness increase instead of the sampler
---
Mensajes Sat 13 Jan 18 @ 12:11 pm

The sampler is mapped to the F leys by default.

There will be a setting in your actual computer that determines the priority of the F keys for settings vs functions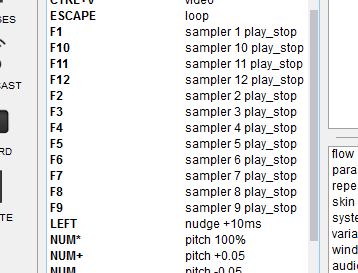 ---
Mensajes Sat 13 Jan 18 @ 12:24 pm