Forum: VirtualDJ Skins


About skins, skin development and communicate with other skin developers.
Tema: [VDJ8] BlackSheepHD - Page: 3
Esta parte del tópico es antigua y puede contener información incorrecta para la nueva versión.

Great job with this skin, I love the album art showing in the turntable, this is the first skin I have seen with this technology. Playing music videos it really looks great,I have custom album art for my audio files, but the album art does not fit completely in the circle, is there a right size or dimension the audio album art should be?
The only problem I am having is the Mixer View stops working, If i choose the video big screen or the standard mixer view whrn I want to change it does not change, I get a white oval shape icon and the Mixer View Options stops responding . I am using a new I mac 5 computer with Maverick software
---
Mensajes Thu 14 Aug 14 @ 11:54 pm

tengo problema, honda de video deck derecho no visible

---
Mensajes Fri 15 Aug 14 @ 6:15 pm

[IMAGE1
change wave, default - no CBG, NO TABAJA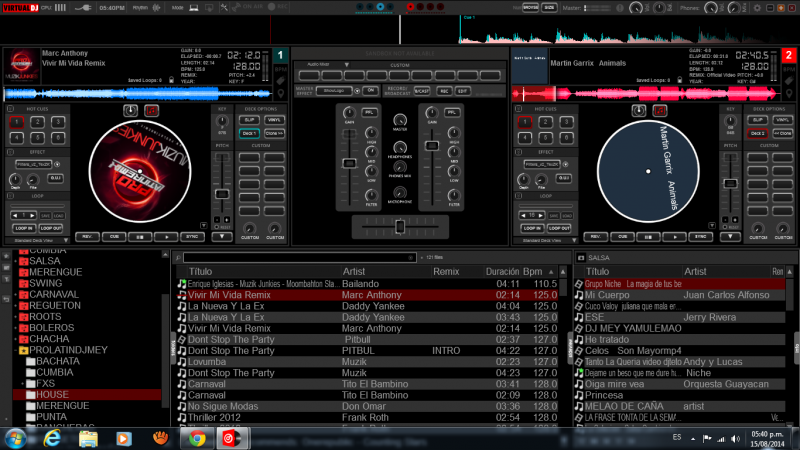 ---
Mensajes Fri 15 Aug 14 @ 6:44 pm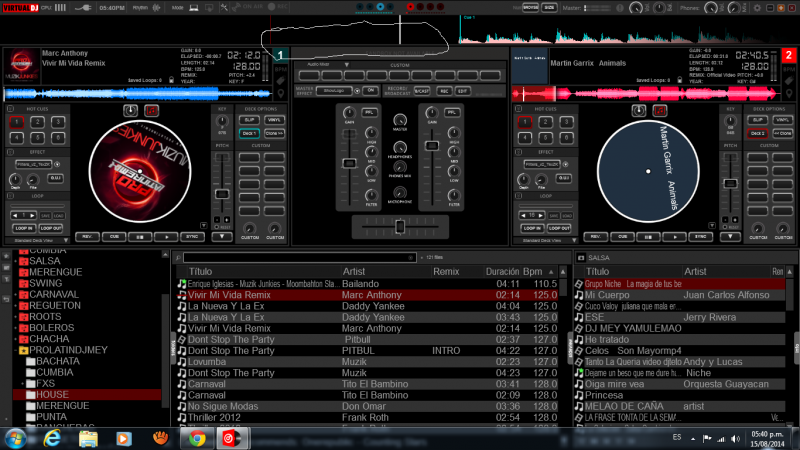 change wave no trabaja
---
Mensajes Fri 15 Aug 14 @ 7:05 pm

The Mixer View stops working on the Mac but works perfect in Windows?
---
Mensajes Sat 16 Aug 14 @ 1:52 pm

This is my favorite skin and rated it 4 stars. Gets 5 stars the very moment, it gets a daylight version. Absolutely love it, and just don't like to have to switch to another skin to be able to see better during outdoor events
---
Mensajes Wed 03 Sep 14 @ 6:20 pm

Love this skin. Only thing I find a bit confusing is that the color bar
is the same and you cannot tell if you are in the browser,sidelist or automix section.
For instance you start with the left side where your main files are. You load something into the
browser. Now say you add some tracks to the automix section and to the sidelist.
All tracks highlighted with red bar and you cannot distinguish which section you are in.
In some skins the color bar would be brighter so you knew where you were at.
Hope this makes sense.
---
Mensajes Thu 18 Sep 14 @ 2:38 pm

i love this skin bad ....... got one question is there any way you can make this in a daylight skin .? jus asking if it possible
---
Mensajes Wed 29 Oct 14 @ 4:44 pm

Where is the BPM tap?
---
Mensajes Sun 07 Dec 14 @ 11:20 am

There are numerous custom buttons in this skin. Pick one and assign beat_tap to it.
---
Mensajes Sun 07 Dec 14 @ 11:44 am

djtouchdan you deserted us? :(
---
Mensajes Mon 22 Dec 14 @ 6:03 pm

usually when you are not working with controller only with laptop in the crossfader is more comfortable than the double clicking again half its location.

<slider action="crossfader" dblclick="" orientation="horizontal">
<tooltip>CROSSFADER</tooltip>
</slider>

---
Mensajes Mon 22 Dec 14 @ 10:49 pm

I'm not sure if this is what you're asking, but you can make the crossfader go to the centre with dblclick="crossfader 50%"
---
Mensajes Tue 23 Dec 14 @ 5:19 am

I am having some problems with the master effects, will not work.
---
Mensajes Wed 04 Mar 15 @ 8:03 pm

Please add 6 deck support!
---
Mensajes Fri 01 May 15 @ 5:41 pm

Where is the Tap button? Also where is pitchlock right click option in 4 deck mode?

Also I cannot turn off video mode once a video file is loaded! I have to switch back to the default skin to kill the video window!

Is this skin dead in the water? Can anyone recommend an alternative skin with a broadcast button and lots of button/fx options?
---
Mensajes Fri 08 May 15 @ 5:23 pm

There are a pile of blank custom buttons on this skin. Set one of them to turn video on and off and your problem is solved. Ditto for tap or any other feature you are looking for.
---
Mensajes Fri 08 May 15 @ 5:30 pm

Okay phantom,not sure if this was resolved but the covers are not showing in two deck mode.works with 4 deck though...
---
Mensajes Thu 15 Oct 15 @ 11:18 pm

Is Possible Update with window option here added an Idea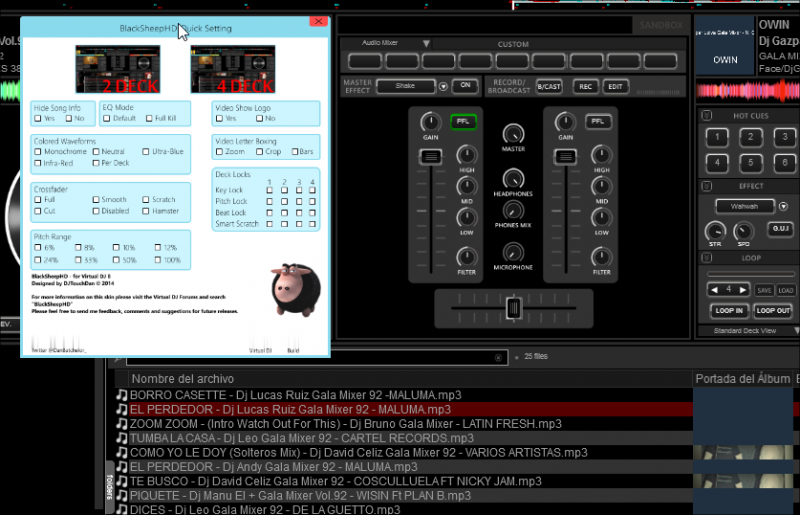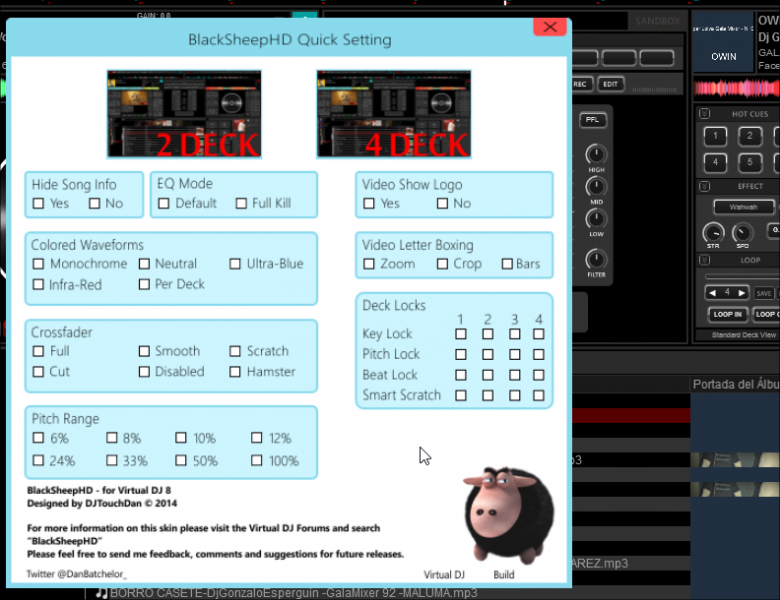 Is Possible With:

<window name="closeskin" width="524" height="530" posx="842" posy="237" breakline="512" image="QuickSettings.png" shown="false">
	<grabzone>
 		<pos x="0" y="0"/>
  		<size width="524" height="525"/>
	</grabzone>
	<resizezone>
		<size width="26" height="23"/>
		<pos x="505" y="512"/>
	</resizezone>		
</window>
---
Mensajes Thu 19 May 16 @ 11:48 pm

Just checking to see if anyone has tried this skin with 8.2. I'm a little reluctant to upgrade as I don't really have time to find I new skin I like.
---
Mensajes Thu 07 Jul 16 @ 2:10 am