Forum: Addons
Any chance of drop down boxes on each deck for the FX or a back arrow please
---
Mensajes Tue 02 Jun 15 @ 6:48 pm
brianmidnite wrote :
Any chance of drop down boxes on each deck for the FX or a back arrow please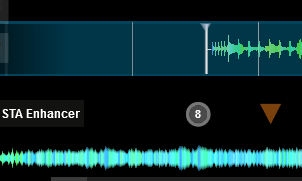 hover your mouse (or finger on your touchscreen) to the right of the effect and an arrow appears.. this is your drop-down option.
---
Mensajes Thu 04 Jun 15 @ 2:54 pm

---
Mensajes Sun 07 Jun 15 @ 4:53 pm
When i made this skin, i never thought that it would be used with a touchscreen, as several elements are small enough to control easy with a finger.
so the whole idea was to hide things when not mouse-hovered.

anyways, the FX selection is right next to the FX name as you can see on the pic below. You ll just have to over the mouse or simply tap/touch on that area.
You can also change the action of that button from effect_select +1 to effect_select if you want to get the Effects drop down list, by editing the xml of the skin.

---
Mensajes Mon 08 Jun 15 @ 5:54 pm
Thanks djdad I've changed the xml and got the dropdowns. The other actions I'd like is a way to unload each deck and a way of blacking out the master screen. If these are possible in xml let me know what to change or if its a custom button operation please let me know the action to put please.
I've looked at the wiki page and at 67 years of age my brain went further into its meltdown!!!
Been using this skin since it came out on a 23" touchscreen, which I touch occasionally, my way of working is a Denon 4500 for stop start cue Denon 900 for volume gain and keyboard for browsing and effects.
Once again Thank you.
---
Mensajes Thu 11 Jun 15 @ 6:58 pm
The action..
unload
or deck x unload (if deck needs to be specified) will unload the deck.

The action ..
video
will turn on/off video, so it will actually show the desktop background image on screen.
---
Mensajes Thu 11 Jun 15 @ 7:01 pm
Done it, so simple, I'm really chuffed, thanks a million times djdad.
---
Mensajes Fri 12 Jun 15 @ 6:08 am
Focus is updated to version 2.1

- Added LINK MODE button. When On, dropping video files to the Deck Video Preview will link video files to the playing track. When Off, tracks will always load. Needs Build 2369
- Rightclick on Deck Effects offers Effect List.
---
Mensajes Sun 26 Jul 15 @ 11:06 pm
I believe you! but I can't see link mode button,right click only bring up POI editor. My config says 2369, downloaded 2.1 says installation successful but interface says Focus Video OSC ver 2. Is it me? Any help / hints please.
---
Mensajes Mon 27 Jul 15 @ 7:28 am
You dont see this ?





As for the Comment line, yes forgot to update that part, but shouldnt matter.
---
Mensajes Mon 27 Jul 15 @ 8:05 am
Not on my skin. I've deleted from skin folder and downloaded again but still not there. Interestingly in config "interface" when I scroll though the skins their pictiure appears but not when focus is selected the picture is either the skin before or after.
---
Mensajes Mon 27 Jul 15 @ 9:44 am
Ok my bad. something went wrong when uploaded the new files.
Fixed, Please re-download and install the skin.
---
Mensajes Mon 27 Jul 15 @ 10:48 am
---
Mensajes Mon 27 Jul 15 @ 4:05 pm
hello djdad,
first off, thank you for creating this skin. it truly is wonderful.
I have been using it for a while but recently when you load a song it says "save track edit". I have clicked on your LINK MODE button but it still occurs if the track is still playing. Will this be fixed or is this supporsed to happen? what is the intention of the save track edit?
once again, thanks.
dj marx
---
Mensajes Wed 29 Jul 15 @ 3:02 pm
---
Mensajes Wed 29 Jul 15 @ 5:03 pm
I would like to use the Keychanger function is it possible to use 3 custom buttons as "up" " down" "reset" If so what are the actions. Thanks.
---
Mensajes Mon 03 Aug 15 @ 6:08 pm
use these actions
key_move -1
key_move +1
for the selected deck, or add deck x in front of the actions if you need to specify one.
problem is that the skin doesnt offer Key info text, so you wont be able to see the Key of the track when changed.
Will add something for next update.
---
Mensajes Mon 03 Aug 15 @ 9:13 pm
Thanks, that works, however I've realised out each deck needs a keychanger which would require 4 custom buttons and I've only got 3 spare. I currently have buttons for deck1unload, deck2 unload, deck1 sync, deck2 sync and video off/on. Is there another way or is it wait for next update? I know on some skins you click on the master video window to turn output on/off is that possible? Anyway its a great skin.
Other wishes for the next update would be a Limiter indicator warning, a bolder clock font and of course a bigger search box. Thanks again.
---
Mensajes Tue 04 Aug 15 @ 12:28 pm
Sync is performed if you tap on the BPM values, so you could save a couple of extra custom buttons.

.. and pitch reset if you tap on the Pitch value btw ;)
---
Mensajes Tue 04 Aug 15 @ 1:48 pm
Didn't know about sync, do use pitch reset, thanks again.
---
Mensajes Tue 04 Aug 15 @ 3:26 pm