Forum: Old versions


For older version, like VirtualDJ 7.
---


NOTE: VirtualDJ 7 is not maintained anymore.
Tema: MCX8000 support - Page: 1

I have 2 of these now onsite in my studio. Let me know when you are interested in jumping into a laptop and building the config for this controller.
---
Mensajes Sun 27 Mar 16 @ 7:58 pm

Emailed you. Thanks
---
Mensajes Mon 28 Mar 16 @ 5:51 pm

Dj Dad could you please send me the mapper for the Denon MCX8000? Thanks in advance. djcycothrasher@yahoo.com
---
Mensajes Tue 05 Apr 16 @ 4:06 pm

Do you guys have a mapper for the MCX8000 for virtual DJ 7 or 8 I hate Serato!!!! Ive been trying to learn it since 03/25 when I got my MCX8000 in the mail and it really sucks plus having to pay $99.00 more to use video????
I soooooooo neeed a mapper for the MCX8000!!!
---
Mensajes Wed 06 Apr 16 @ 2:38 pm

Anything I can do to help! PLEASE let me know!
I'm working 6 nights a week but can help during the day EST time!
Still using my DN-MC6000 every night
---
Mensajes Wed 06 Apr 16 @ 2:43 pm

If you've already finished the mapper please send it to me?
Thank You in advance!
email: djmakerzmark@yahoo.com

---
Mensajes Wed 06 Apr 16 @ 2:45 pm

Guys, when there is a mapper ready then it will be announced and available in the downloads area.

As you can see from the earlier posts, djdad has only recently emailed dcomo, and may not have even started work on it yet.

Also, there's no need to post three times consecutively. It won't get a faster response.


---
Mensajes Wed 06 Apr 16 @ 4:35 pm

Soon folks... Soon!
---
Mensajes Fri 15 Apr 16 @ 5:35 am

besides the actual mapping, will the screens work with vdj8 the way the NV does?
---
Mensajes Tue 19 Apr 16 @ 6:55 am

That's the plan!
---
Mensajes Thu 21 Apr 16 @ 5:55 pm

is it finished yet? lol Just wondering when you make the mapper do you do if from within VDJ? I started some mapping and it's working so far, but I'm not writing any code just mapping from within VDJ.
---
Mensajes Sat 23 Apr 16 @ 4:54 pm

(Some is within, some not.)

Soon, soon! :-)
---
Mensajes Tue 26 Apr 16 @ 3:31 pm

Thank you for taking the time to do the mapping. Still a decent controller.... a few things could have been better... I'm still not a fan of Serato, yet I can see why some do like it. Since I do more mobile I prefer VDJ, been with them for years... Some of the fun is mapping something out yourself... :) Now if I could only figure out how to make the screens work on my own.
---
Mensajes Tue 26 Apr 16 @ 9:14 pm

Anxiously awaiting this but at the moment I'd settle for a partial mapper with working channels and XFaders...
---
Mensajes Wed 27 Apr 16 @ 10:14 am

I tired to use Serato but its just not for me , ill be glad of the mapping for the unit as well. And also waiting for Swan Flight to design a case for the unit.
---
Mensajes Thu 28 Apr 16 @ 5:38 am

@dj Dad
Hey - I´m one of the first german lucky guys who get the MCX 8000

is it possible to send me the Mapper too ?

my email
proseccopause@googlemail.com

Many thanks in vorward !
---
Mensajes Thu 28 Apr 16 @ 4:01 pm

Just to let you know Swanflight have now today designed and built the first case. First batch being built tomorrow for pre orders.Having spoke them over the past couple of says they are waiting for interest in the case before building up stock but could be built and shipped in a week. Cost £156.00 retail £12.00 shipping (uk)
Hope this helps.
---
Mensajes Thu 28 Apr 16 @ 9:05 pm

I have ordered one from swan flight myself, now when the mapping is ready ill be using the 8000
---
Mensajes Fri 29 Apr 16 @ 10:35 am

It looks very smart...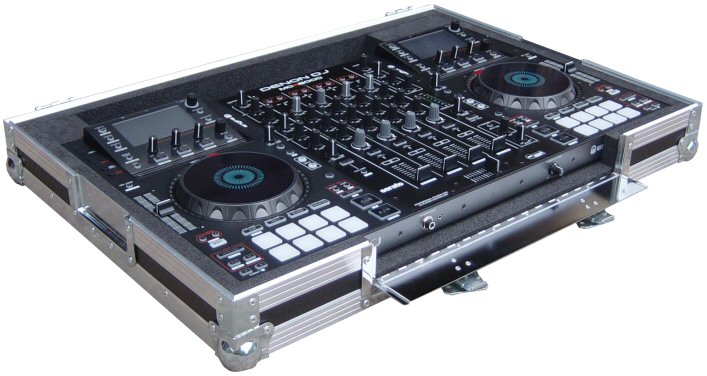 ---
Mensajes Sat 30 Apr 16 @ 8:24 am

Hey Guys I received my DENON MCX 8000 this week, the first in Switzerland. I will use it tonight in the club with the stupid Serato DJ, really not my DJ-Software. Looking forward to use Virtual DJ Pro anytime soon again. Hurry up with mapping. contact@djmadhouse.ch

---
Mensajes Sat 30 Apr 16 @ 9:25 am