Forum: General Discussion


About VirtualDJ and DJing in general

---
If you need extended support, contact our Support Team.
Forum Guidelines  (*) The moderators hold the rights to move or modify posts in order to keep the discussions clear or to facilitate the search.
Tema: How to change cue button setting

Hi, I just got a Denon MCX8000 controller and I have it working perfectly with the mapping file from here, but if I hold the cue button for longer than about 4 seconds the song will automatically keep playing. Just wondering if there's a setting I can change to stop that from happening, I can't seem to find anything in preferences that looks right.
---
Mensajes Thu 08 Jun 17 @ 3:54 pm

I've tried changing the cue setting to cue-hold and cup, but that's not actually changing anything.
---
Mensajes Thu 08 Jun 17 @ 4:03 pm

Go in to the mapper and change the CUE botton to the desired behaiour. If you type CUE in the box i will give you all the options.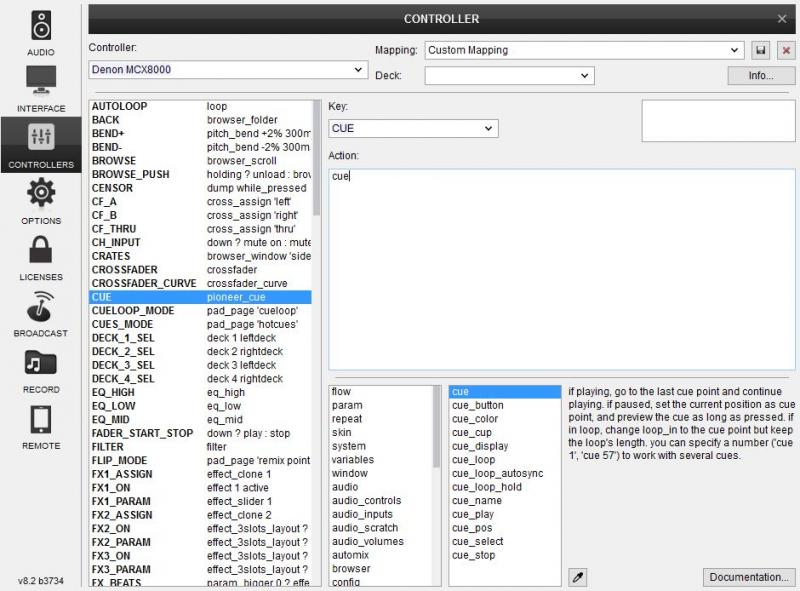 ---
Mensajes Thu 08 Jun 17 @ 4:31 pm

Thanks so much, that was wrecking my head.
---
Mensajes Fri 09 Jun 17 @ 6:34 pm

Hi Folks.

Recently bought a Pioneer DDJ-SB2, and having similar probs. Tried various changes as described, in Controller Options and thru the Button Behaviour area next to the Hot Cues on screen.

Basically, I need the yellow cue button to only play when pressed then stop on release. I have managed to get this to work, but then the actual hot cue buttons I've setup also react in the same way, rather than actually playing from that point.

As per, it will be simple and obvious, but I've now tried too many combinations to know where to go next.

Thanks in advance.

---
Mensajes Sat 12 Jan 19 @ 1:46 pm

Typical!!!

Went back to system in frustration, changed one more setting, got what I needed. Must make a note of all the current settings for future reference.

Thanks anyway!
---
Mensajes Sat 12 Jan 19 @ 1:56 pm