Forum: General Discussion


Discussions about VirtualDJ, and about DJing in general

---
Forum Guidelines
If you need extended support, contact our Support Team.
(*) The moderators hold the rights to move or modify posts in order to keep the discussions clear or to facilitate the search.
Tema: [NEW] Pioneer DDJ-XP1 pad controller - Page: 1

Looks like the replacement for the SP1 is *finally* here. Price looks decent too which is a surprise for Pioneer. No doubt it will be "locked" to Rekordbox though.

Huey will be over the moon :)


---
Mensajes Tue 12 Sep 17 @ 7:25 am

Just looked at the video and specs. I really going to buy this!!! and sell my DDJ-SZ
---
Mensajes Tue 12 Sep 17 @ 7:35 am


DJs are like "It says Pioneer on it, take my money" lol.

It does look good, If you're one of the lucky few, who get paid well to play minimal music that could benefit from a ton of overlayed samples, then this really is for you. If you mainly play pop songs that are very much complete and sonically 'packed', this will be of less interest.
---
Mensajes Tue 12 Sep 17 @ 8:06 am

It is a bit much for me, I would of been fine with just colored pads on the SP1.

But then again if used with VDJ I can pretty much do what I want with all those pads.

I'll have to get a hands on first.
---
Mensajes Tue 12 Sep 17 @ 11:42 am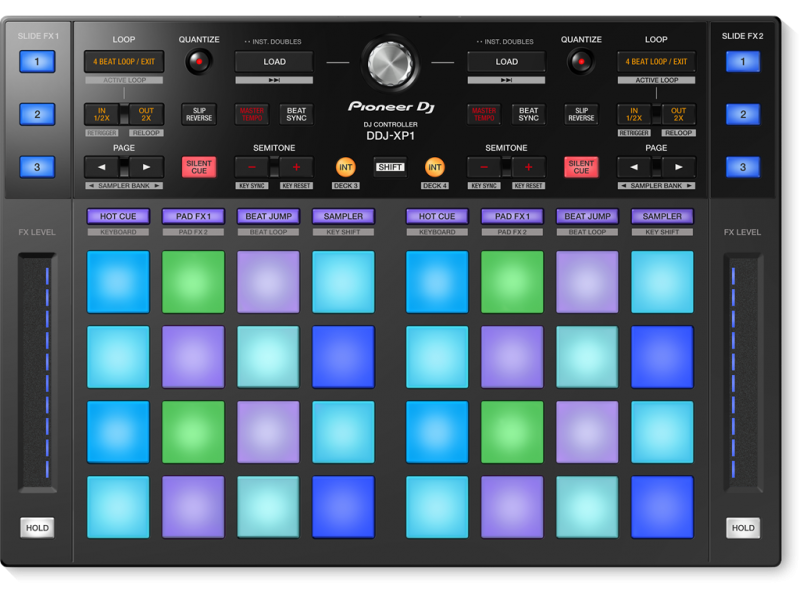 The more I look at this unit the more I think I like it.

Sure it's double what the SP1 is but I could 8 hot cues with 4 Saved Loops and then use the other 4 as Remix points for each deck and that's just on 1 pad page!!

Yeah this thing combined with VDJ could truly be a winner!!

Not really a fan of the touch strip but if we could have it toggle between touch and latch we could also do great things with fxs.

Yeah I think this will be a BEAST!!

Well done Pioneer!
---
Mensajes Tue 12 Sep 17 @ 4:43 pm

I knew you would like it.

Pretty comprehensive features in one small box.
---
Mensajes Tue 12 Sep 17 @ 4:55 pm

If the touchstrip can be set to decent increments for pitch, this is a candidate for a platter-less set up too... (i.e. DJM900 + XP1 etc.)

---
Mensajes Tue 12 Sep 17 @ 10:23 pm

Also loving it!!!!!!
Would like to know if the Colour Palette can be changed tho. (Multicoloured like the DD-JSR2)
---
Mensajes Wed 13 Sep 17 @ 10:33 am

I think so. If you check the Rekordbox 5 footage, it has a very nice menu based config for the pads - including ther colour.
---
Mensajes Wed 13 Sep 17 @ 5:47 pm

What good is a sub controller which does not have multiple faders to control the volume levels of a large range of sampler inputs?
Faders are important.
I suppose the flashing lights will amuse the children.


---
Mensajes Thu 14 Sep 17 @ 12:54 pm

Each one with it's own taste @bigron1

BTW: The pads have velocity control...
---
Mensajes Thu 14 Sep 17 @ 1:03 pm

So if you vary the force applied to the pad it can alter the volume of a single note? That feature is on the cheapest of Akai controllers.. the LP8, and it's not that much use. At least the humble LP8 has plenty of knobs which can be used as second rate faders. Faders are essential.
---
Mensajes Thu 14 Sep 17 @ 1:14 pm

Not essential in my book, nice to have but not needed, as Phantom said the pads are velocity sensitive so there's pretty much a fader for every pad......
---
Mensajes Thu 14 Sep 17 @ 2:48 pm

Rubbish.

Have you tried velocity pads?
I have on an Akai unit and there useless.
More to the point, we need to be able to fade multiple samples, such as drums, in and out, in conjunction with using a controllers eq's to remix/mix. Pioneer have missed this trick on all their controllers but even the old MC3000/6000 using their 8 sampler volume knobs can achieve these basic tasks.

OK so on the Pioneer you can tap out a few beats and try to look good for a few minutes, and then you have to return to being a proper DJ.

Keep looking at the lights..they are pretty, and I'm sure loads of bedroom DJ's will love this new fan boy toy..

---
Mensajes Thu 14 Sep 17 @ 3:03 pm

Yes I use them all the time on my Pioneer SP1, lmao!!

Everybody has different styles Ron, what works for me clearly doesn't work for you and the same goes for me.

But there's more to this unit then just launching samples. With that many pads I could do a lot......

It's not as bad as your making it out to be, your just looking at it through your small eyes/mind and not seeing the potential of what could be done with when paired with VDJ. You know the "big picture".

Anyways I'm done with you now, carry on and have a GREAT day.
---
Mensajes Thu 14 Sep 17 @ 4:26 pm

You know the "big picture".

I think you see the little picture.
Or maybe it's about selling stuff to bedroom DJ's?
A single Pioneer sampler volume fader is useless, and that was my first thought when using the DDJ SX.
This applies to all their controllers.
It's obvious that we need to accurately control multiple individual sample volumes which Pioneer has neglected.

You to can be a limited Pioneer DJ.
(Note: I use a Pioneer controller which I regard as excellent but limited.)
Still with this new unit you can have 32 hot cues or more.
---
Mensajes Thu 14 Sep 17 @ 4:44 pm

I've moderated the last few posts.
@ron : As has been said, not everyone has the same style or use, regardless of where they want to use the hardware, so a deal breaker for you may not be a problem for someone else.
Please respect that not everyone may have the same opinion as you. If you treat other people with respect I'm sure you will get respect back as well.
---
Mensajes Thu 14 Sep 17 @ 5:10 pm

FYI Ron, Akai have been making pad based samplers for decades (the MPC range, starting in 1988) and none of them have physical faders for every pad.

This didn't stop them being a huge global phenomenon, used by world famous producers to make million selling tracks.

Don't you think if it was such a huge flaw as you make out, customers would have complained, and Akai would have added them? But no, they've sold millions of MPCs, which are loved by millions.

The MPC60 was $5000 - just slightly more than your little plastic LPD8. :-)


I've got an MPC1000 myself, and this model is regarded as an absolute classic. People love 'em. No volume faders for the pads.

You shouldn't compare chalk with cheese. The retail price on the XP1 is over £200. Your LPD8 is £40 worth.

BTW I have an LPD 8 too.
---
Mensajes Thu 14 Sep 17 @ 5:14 pm

It's funny how you removed posts from others but left Ron's antagonistic posts that started the debate in the first place.

The guy is a troll but just gets left to spout his crap everywhere.
---
Mensajes Thu 14 Sep 17 @ 5:34 pm

@kradcliffe I don't need any posts deleting..you were beat.

@Groovin Another one who misses the point..we can use VDJ group volume controls assigned to a fader. My Traktor F1 has 4 volume faders therefore I can control 4 groups. One group may be kick drums, another high hats and so on. The more faders the better. When moving from one sample (say a drum) to another in the same group the transition is seamless.
You could hop around on one leg but two is better. So one sampler volume fader is not enough, and this new sub controller has none.
---
Mensajes Thu 14 Sep 17 @ 5:39 pm