Forum: VirtualDJ 8.0 Technical Support
Este tópico es antiguo y puede contener información incorrecta para la nueva versión.
Since 2 days ago I met a display issue when I open the video window. Indeed VDJ of the block is placed in the background and it is impossible to return to the software to perform an action . Even close, I have to use the desktop icon and force the application to quit .... I reinstalled the previous versions but it changes nothing.
I put a video to help you understand :

http://youtu.be/QwMl_oLA72E

Can anyone help me
---
Mensajes Tue 03 Mar 15 @ 2:51 pm
Double-click on the video window to make it normal size again, then move it to where you want (or the monitor you want)
Double-click again to make it full-screen again.
---
Mensajes Wed 04 Mar 15 @ 12:29 am
Thx for helping Adion
I've tired all of this and nothing happened, i have no ohter monitor trendy 0_O'
I found a way to have a normal display , but it remains the obstacle course , I have to open VDJ in full screen view , and then switch to Large view etc
this is not normal, I 've never had this problem before !!!!

http://youtu.be/JQEZheWBEOY


---
Mensajes Wed 04 Mar 15 @ 4:17 am
Ah looks like the title-bar gets underneath the menu bar somehow.
You can reset window positions by opening config, looking at advanced config for videoWindowPosition, and remove the contents of that entry.
---
Mensajes Wed 04 Mar 15 @ 4:22 am
Do you have the option videoForceFullScreen set to 1?
---
Mensajes Wed 04 Mar 15 @ 4:27 am
here is my video config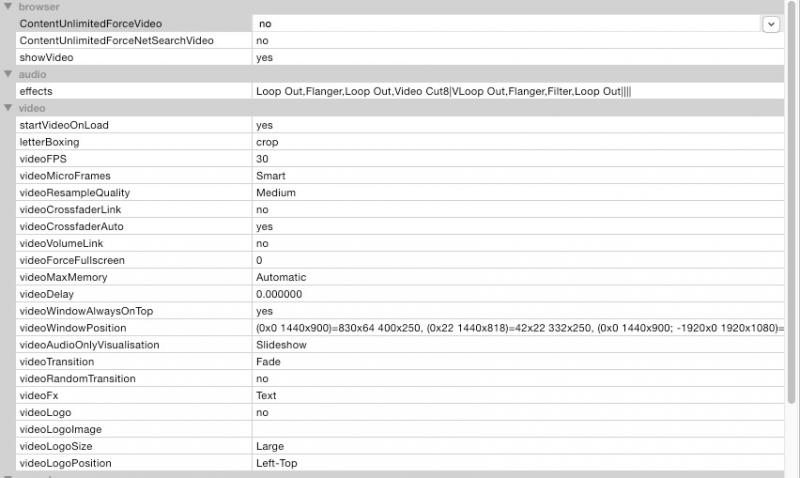 it's set to 0

i try this Adion


---
Mensajes Wed 04 Mar 15 @ 4:39 am
Thank your Help guys :-)
the problem seems to be resolved . But before following your instructions Adion , I connected my TV to my mac , and i had the normal display.
But it's really strange cause i never touched this setting in vdj 0_O'

I have another problem that I have to solve lol , things would be really simple if all worked perfectly
---
Mensajes Wed 04 Mar 15 @ 4:53 am
Hi I have a matrox 9148 card
the issue is that VDJ7 the primary screen displays ok
in vdj8 the only part of the primary screen is showing in the top left and the rest of the screen blank





seems odd works in one ok but in the new VDJ8 this happens

any ideas how to fix this issue

---
Mensajes Thu 05 Mar 15 @ 10:11 am
what is the total resolution that the Matrox has created for your Desktop ?
Are all 4 screens declared as a single "extended" one ?

As far as i can see from the background that your screens have, it seems more than cloned rather than extended.

Can you also try the Maximize button ? (there are 3 views - Windowed, maximized, full-maximized). In case you cant reach the maximize button, open the keyboard mapping.xml with an Editor and add for a key the action .. maximize, and use that keyboard shortcut once the application is launched
---
Mensajes Fri 06 Mar 15 @ 2:18 am
The background always gets cloned.
But his mode should be "extended". If it was "cloned", the taskbar should be cloned too, which isn't.
---
Mensajes Fri 06 Mar 15 @ 3:08 am
s when I load vdj 7 the full screen no issue whatsoever full screen works ok

load VDJ8 and I get the screen shot above..
so we have not moved any further yet then... this must be an issue in VD8 and NOT the graphics cards settings
---
Mensajes Fri 06 Mar 15 @ 12:53 pm
added info... disabled all other screens
same issue still occurs
the usable bit that you can see .. can be played & adjusted and also you you can select the config if you click along the top part of the screen in the right place.

its like the skin is an issue and the black is overlaying the skin !!

any ideas still ????
---
Mensajes Fri 06 Mar 15 @ 3:36 pm
not heard from anyone from VDJ yet ??
So where do I go from here

---
Mensajes Sun 08 Mar 15 @ 11:35 am
@topnotchdisco do you get this problem with only one monitor enabled?

if so you might rename settings.xml file and restart vdj8 and see if it is better

also a driver update would be advised
---
Mensajes Sun 08 Mar 15 @ 12:31 pm
yes I get this same problem with a single monitor
V7 ok ... fres up and full screen to use

when you fire up V8..... I get that issue of top left and the rest with a black screen

will ry the xml file in a mo ... thanks wickedmix


---
Mensajes Sun 08 Mar 15 @ 12:50 pm
still the same problem

any VDJ programmers help here at all?

---
Mensajes Thu 12 Mar 15 @ 1:57 pm
Open the settings.xml you will find in Documents/VirtualDj folder and search for .. skinposition
Post that line here.

You also said, you tried only with the main screen. Can you post a screenshot of the Windows Control panel ->display->Screen resolution ?

IMHO, its more a "vga driver" issue. Maybe Shades, 3D is disabled, maybe the drivers need update (or try older versions) ?
Even if the position of the skin is incorrect, it should still show the graphics properly on your main screen.

From VirtualDJ side, the only thing you can try is to delete the settings.xml (which resets the settings of the software to the default). If this doesnt help then some parameter of the graphics driver is responsible.
---
Mensajes Thu 12 Mar 15 @ 2:19 pm
my virtual dj display stuck withing opening 2 or 3 mints... cant enjoy. whats the reason
---
Mensajes Sun 28 Oct 18 @ 7:57 am
hello my interface is showing half way and causes verything to stall please help its an emergency
---
Mensajes Thu 23 May 19 @ 10:54 am
Have had vdj for 8 years tried to open and it says corrupted file E. How do I fix.
---
Mensajes Wed 12 Aug 20 @ 2:57 pm
(Los tópicos y foros antiguos son automáticamente cerrados)