Forum: VirtualDJ Technical Support


For reporting any bug, questions or comment related to the latest version of VirtualDJ
---
(NOTE: VirtualDJ continuously updated, so many older topic on this forum are most probably already fixed in the current build)

If you need extended support, contact our Support Team.
Forum Guidelines  (*) The moderators hold the rights to move or modify posts in order to keep the discussions clear or to facilitate the search.
Tema: VDJ is analyzing all songs incorrectly since update

Hoping to get some help with figuring out where my issue might be with the analysis of all music. I have a few examples attached. The sync on all songs seems to be off since an update from last weekend and I've tried everything I can think of to fix the issue. Every track also seems to be mismatched by about half a beat or so and can only be fixed by manually making the adjustment. I've tried a fresh install, checked my settings, and everything else I can think of. I am wondering if this is a setting or controller issue (I use the DDJ-SB2) or an update issue. I apologize if I have not be thorough enough in my explanation as this is my first time requesting help. I would be happy to further clarify if you need more specific details. Please help!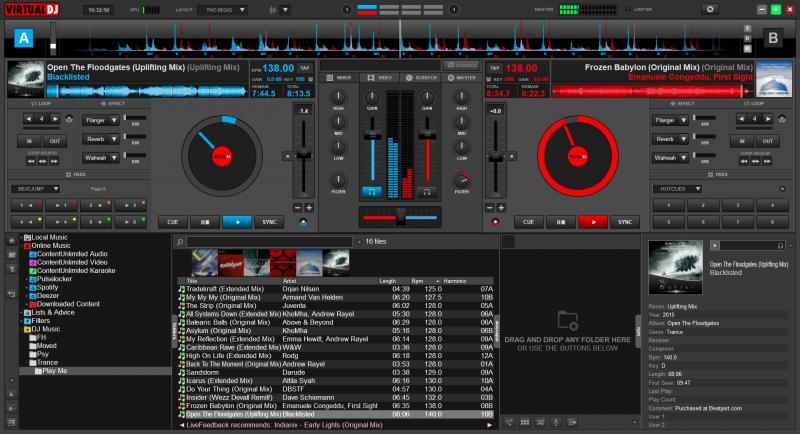 ---
Mensajes Sat 17 Jun 17 @ 5:34 pm

have you already fixed these because the first beat appears in the correct location to me?

if not where did you expect it would be?
---
Mensajes Sat 17 Jun 17 @ 5:55 pm

No I have not fixed these. I realize the beatgrid anchor appears to be correct. I don't understand why the playhead marker is then so far off. The 4th picture shows two songs that should be matched but are clearly off. I may need to magnify it some more and I've attached an example of whats happening.The middle beatgrid on my previous post is showing that its not analyzing correctly. Here are several others. I also forgot to mention that when first loaded into a deck all songs are starting on beat 16 and I have to jog it forward a touch to get it to beat 1.




---
Mensajes Sat 17 Jun 17 @ 6:08 pm

What's your autocue setting set to?
---
Mensajes Sat 17 Jun 17 @ 7:14 pm

its set to skip silence
---
Mensajes Sat 17 Jun 17 @ 7:20 pm

In your pictures all songs look analyzed correctly. Can you give 2 titles as examples for songs that don't sync correctly
---
Mensajes Sat 17 Jun 17 @ 9:40 pm

The two songs in the screenshot are examples of songs not syncing. They are freshly loaded and not playing. most if not all songs need to be tapped to actually match up. I know the image quality isnt great and here are links that can help you better see whats going on.

https://ibb.co/c6hEoQ
https://ibb.co/jBrUNk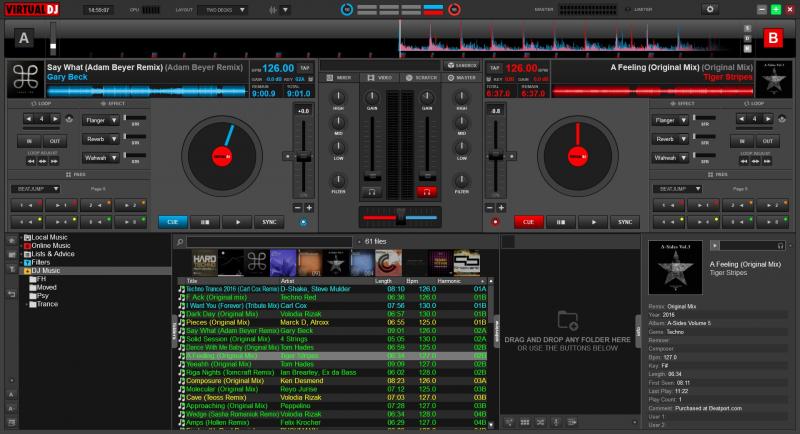 ---
Mensajes Sat 17 Jun 17 @ 10:02 pm

I don't see anything wrong in the picture.
I also tried loading both songs here, and after playing with smart play or sync they sound synchronized as well.

Can you describe more accurately what problem you have exactly?

Edit: In the 4th picture of your 4th post, it looks like the grid and rhythm wave are correct, but not lined up. Pressing sync should line them up at that point.
And it looks like smart play is off, which is why it was not automatically synced when you pressed play to begin with.
---
Mensajes Sun 18 Jun 17 @ 7:19 am

I tried the 2 songs from your first post as well, and they also sync perfectly.
Can you try to select both songs in the browser and right-click re-analyze them?
---
Mensajes Sun 18 Jun 17 @ 11:55 am

I realized after the fact that smart play was off but I turned it off on purpose to see if it was causing the issue and it was not. Syncing the song does not work. it does nothing. I've re-analyzed my entire library multiple times. I've done a clean install about 3 or 4 times now with builds 3752, 60, 61, and 71. I can assure you that I've tried all of the common fixes or suggestions with no success. When played two songs are clearly not matching up and Sync does not work. Manual correction by vinyl/slip mode to bump the tracks in sync
---
Mensajes Mon 19 Jun 17 @ 2:10 pm

I had the same problem with the last update all songs would not sync correctly.

I knocked off experimental bpm and the experimental skin engine and all seems well again songs are syncing.

Hope it helps.
Forgot to mention using pitch quality 3 as well

---
Mensajes Mon 19 Jun 17 @ 3:39 pm

Could you try again with build 3780?
---
Mensajes Tue 20 Jun 17 @ 8:44 am

The 3780 update appears to have fixed the problem for the most part and it is occurring much less often, now maybe 1 in 10 songs, which is a very acceptable rate to me. Glad this issue is getting ironed out.
---
Mensajes Thu 22 Jun 17 @ 4:04 pm