Forum: General Discussion
Tema: Does the paid version have better reverb? - Page: 1
Esta parte del tópico es antigua y puede contener información incorrecta para la nueva versión.
The two FX I used in every set are Delay (Echo in VDJ) and Reverb, so they need to be up to scratch. VDJ's reverb tail is at most 5 seconds long and sounds echoey (as if it had some tremolo on it). The "Reverb" FX in Traktor can be configured to give you over 20 seconds of reverb tail and is buttery smooth. Is that sort of reverb possible in VDJ? thanks
---
Mensajes Mon 19 Nov 18 @ 9:54 am
I don't know in what way the Reverb params can be tweaked. But there a no other FX in the pro version.

Actually the Free version is a full Pro version for 10 Minutes each start of the software. Meaning you are able to Test any pro feature including controllers for 10 minutes each start.
---
Mensajes Mon 19 Nov 18 @ 12:57 pm
Scoox wrote :

Is that sort of reverb possible in VDJ? thanks



Yes, any reverb is possible.
Just find the 32-bit .VST effect implementation, and add it into VDJ

If you don't know how, here is an example:




I did a test with this free one:
https://tal-software.com/products/tal-reverb-4

When turned all the way up that gives you 15-20 sec when you pause the track (with fxProcessing set to post fader of course)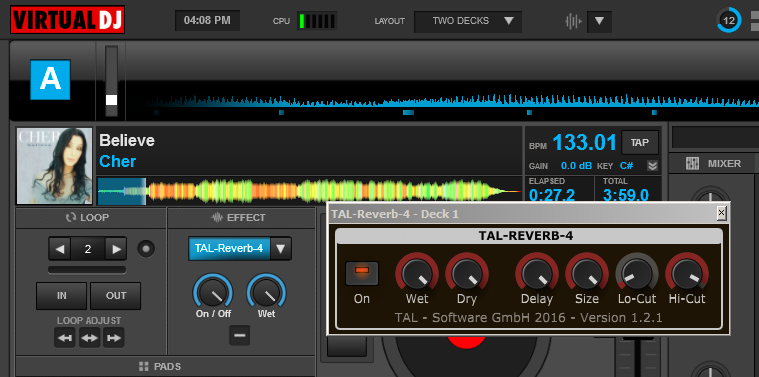 ---
Mensajes Mon 19 Nov 18 @ 2:54 pm